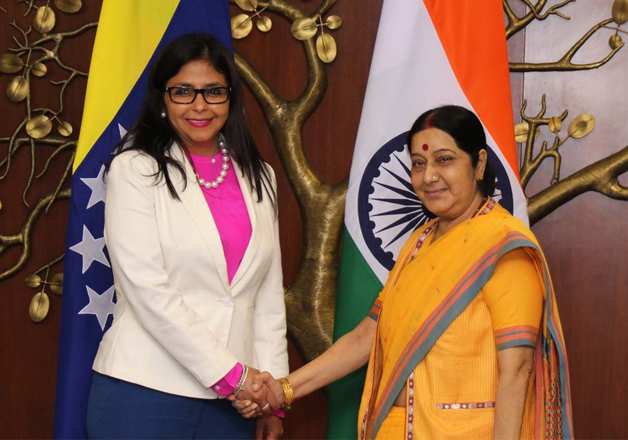 Amid reports that Prime Minister Narendra Modi is unlikely to attend the Non-Aligned Movement (NAM) Summit to be held in Venezuela next month, External Affairs Minister Sushma Swaraj was extended an invitation to attend the event by her Venezuelan counterpart Delcy Rodriguez here on Thursday.
"Delcy Rodriguez, Minister of External Relations of the Bolivarian Republic of Venezuela, visited India on August 18, 2016 , to personally hand over an invitation for India's participation in the 17th NAM Summit being held in Margarita Island, Venezuela on September17-18, 2016," MEA spokesperson Vikas Swarup informed the media on Thursday.
The last time an Indian Prime Minister did not attend a NAM Summit was in 1979 when Charan Singh was the caretaker Prime Minister.
Swarup said that Rodriguez was accompanied by a 14-member delegation including Venezuelan Minister of Petroleum and President of Petroleos de Venezuela SA (PDVSA), Eulogio del Pino and Venezuelan Vice Minister for Asia, Middle East and Oceania, Felix Plasencia.
Stating that Rodriguez held a substantive bilateral meeting with Sushma Swaraj, Swarup said, "They discussed the whole gamut of bilateral issues and views were exchanged on various multilateral issues, including UNSC Reform, UN Peacekeeping and terrorism."
The Ministers also agreed to move ahead for an early finalisation of various agreements in different areas, including extradition treaty, double tax avoidance agreement (DTAA), mutual legal assistance treaty (MLAT) on criminal matters and air services agreement etc.
According to Swarup, Sushma Swaraj underlined the importance India attached to NAM, particularly as one of the founder members.
"She confirmed India's participation and conveyed that the details will be worked out and intimated soon. It was agreed that there is huge potential on both sides on the trade front and that the basket needs to be diversified," the spokesperson said.
Swarup also said that both the ministers agreed that the next joint commission meeting should be held soon in Venezuela.
"India raised the issue to pending payments of both public and private sector companies with the Venezuelan side," he said, adding that the visiting delegation assured that they would look into the matter for an early solution.
In the cultural sector, it was agreed that programmes like symphony, film festivals and youth orchestra should be exchanged.
"The External Affairs Minister thanked her Venezuelan counterpart for their support in successfully organising the International Day of Yoga for two consecutive years," Swarup said.
"The Venezuelan Minister of External Relations invited External Affairs Minister to visit Venezuela which she accepted."
Earlier on Thursday, Minister of State for Petroleum and Natural Gas Dharmendra Pradhan hosted a lunch in honour of the visiting dignitaries.
The 17th edition of NAM summit is scheduled to take place on September 17-18 at Venezuela's Margarita Island.
The NAM is a group of states which are not formally aligned with or against any major power bloc. As of 2012, the movement has 120 members. The organization was founded in Belgrade in 1961, and was largely conceived by Jawaharlal Nehru, Indonesia's first president Sukarno, Egypt's second president Gamal Abdel Nasser, Ghana's first president Kwame Nkrumah and Yugoslavia's president Josip Broz Tito.
With IANS Inputs