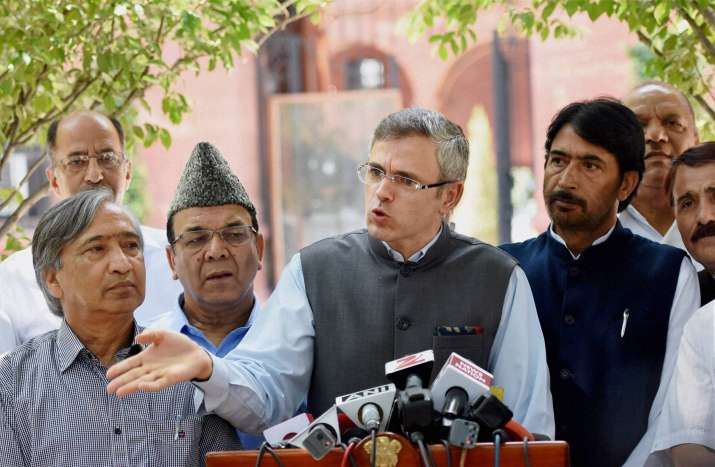 Lauding lauded Prime Minister Narendra Modi for taking up the Kashmir situation in his radio address, former Jammu and Kashmir chief minister Omar Abdullah on Sunday said that youth have been pushed towards stone-pelting due to "our collective mistakes." 
"Good to see @narendramodi ji continuing where he left off after meeting opposition parities in Delhi last Monday," the National Conference leader said on Twitter after the Prime Minister's radio address. 
Reacting to Modi's observation on youth being pushed towards stone-pelting, Omar said it was due to "our collective mistakes". 
"Unfortunately sir a lot of these youngsters have been pushed there by our collective mistakes and mishandling of J&K," situation, the National Conference working president said. 
In his 'Mann ki Baat' radio address, the Prime Minister said, "People who are putting innocent young boys forward to disrupt peace in Kashmir, one day they will have to answer to these boys." 
The Prime Minister said all the political parties had spoken in one voice on Kashmir, sending out a "message to the world as well as separatist forces" besides conveying "our sentiments to the people of Kashmir". 
"From the interactions I had with all parties on Kashmir, one thing emerged from those, which can be put in simple words as 'Ekta' and 'Mamata'. These two things were the basic mantra." 
Omar in the past had criticised Modi for not making mention of the Kashmir situation in his earlier 'Mann Ki Baat' addresses. 
"How I wish my Prime Minister had found a few reassuring words for my state which has seen almost 50 deaths & countless injured #MannKiBaat," Omar wrote on Twitter on July 31. 
A delegation of opposition parties of J&K led by Omar Abdullah met the Prime Minister a week ago to discuss the current turmoil in the Kashmir Valley. 
Kashmir has been witnessing unrest for the past 51 days triggered by the killing of Hizbul Mujahideen commander Burhan Wani in an encounter with security forces on July 8. 
As many as 68 persons have been killed and thousands others injured in violent clashes between protestors and security forces.