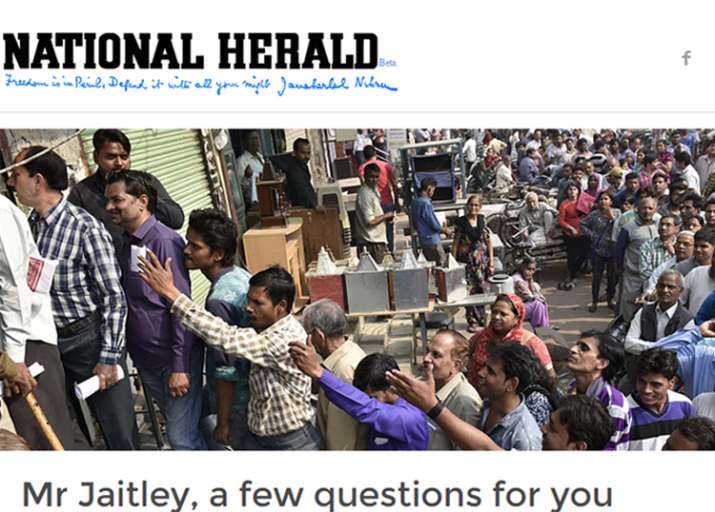 Congress-owned newspaper National Herald today staged a comeback with a digital version on the 127th birth anniversary of Pandit Jawaharlal Nehru, the founder of the newspaper. 
The Associated Journals Limited, which is mired in legal hassles over its assets, announced the launch of www.nationalheraldindia.com, eight years after it had downed its shutter, and claimed that the printed version of its newspaper will also see a rebirth soon.
"In keeping with the changing times, the newspaper group resumes phased publication as a multi-media outlet with a strong digital presence. The digital website will follow the same editorial vision and principles as that of our Founder, Pandit Jawaharlal Nehru," the company said in a press release. 
"It remains committed to furthering the values it has always cherished and the best values of the Freedom Movement – that of building a modern, democratic, just, equitable, liberal and socially harmonious nation, free of sectarian strife," it said.
Congress Vice President Rahul Gandhi said the relaunch is a befitting tribute to Nehru on his anniversary. "@NH_India carries forward its proud legacy - giving voice to the vision of a modern, democratic, just and harmonious nation.
"A fitting tribute to Pt Nehru on his 127th birth anniversary! Wishing team @NH_India the very best in this new innings!," he said on Twitter, while putting out the new link of the news portal.
Launched in 1938 as a daily in the vanguard of the Indian Freedom Movement, the release said the newspaper proclaims its commitment on its masthead inscribed in Nehru's hand, "Freedom is in Peril, Defend it with All Your Might".
Announcing the launch, its website carried a cartoon captioned - "Don't spare me Shankar", carried with an editorial that captures the democratic spirit — open to accountability, criticism and some humour of the first Prime Minister.
"We dearly need to see more of that spirit in these times. We have taken our first Beta baby step as a website with a free voice to uphold the values of our freedom struggle that our founder represented. A full fledged news website and the suspended old newspaper will also see a fresh rebirth. Stay with us on these next steps of a journey begun in 1938. Keep watching this space," the website said.
National Herald has already announced appointment of Neelabh Mishra as its editor-in-chief. The company said during its halcyon days even in decades after Independence, the National Herald group of newspapers, including its publications Navjivan in Hindi and Quami Awaz in Urdu, lent its influential voice to the efforts of building such a nation striving for world peace and imbued with rationality and scientific temper that its founder had inculcated.
The publications of Associated Journal were shut by Congress in April 2008 after these incurred losses. BJP leader Subramanian Swamy had lodged a criminal case against the Gandhi family and some Congress leaders, including Motilal Vora, Oscar Fernandes, and Gandhi family loyalists Suman Dubey and Sam Pitroda, in 2012 accusing them of misappropriation of its funds. Congress has contested the case and the trial court has granted bail to the Gandhis and others.
(With PTI inputs)