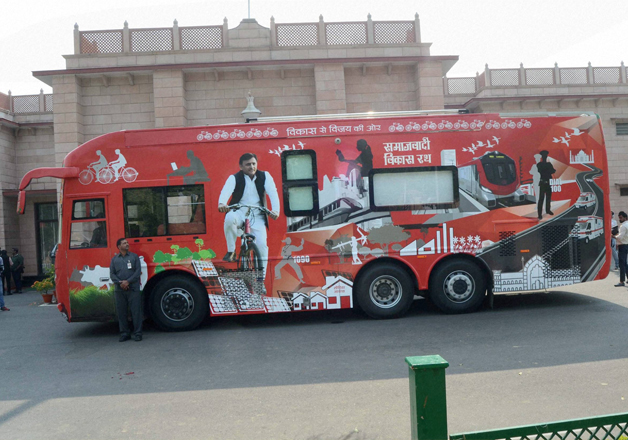 Call it a showdown or a show of strength, the stage is set for Uttar Pradesh Chief Minister Akhilesh Yadav's 'Vikas Rath Yatra' to be flagged off tomorrow.
Samajwadi Party supremo Mulayam Singh Yadav will flag off the yatra even as the duo is locked in a stand-off over several issues in the party just ahead of the Assembly polls.
According to reports, SP Uttar Pradesh unit and Akhilsh's uncle Shivpal Yadav is likely to be present on the occasion as he wants to send a message of unity in the ruling party. 
"All arrangements have been made. The yatra will be flagged off by 'Netaji' (Mulayam) and senior party leaders, party state president Shivpal Yadav will also remain present," MLC Sunil Yadav Sajan, who is close to Akhilesh, said. 
Sajan, who is also in charge of first leg of the yatra, said at every second kilometre, the CM will be welcomed and he will also address gatherings at various locations. Last month, Shivpal had expelled Sajan, considered close o Akhilesh, from the party. 
A luxury bus has been customized as a 'Rath' equipped with a hydraulic platform, which could be launched aloft to enable the Chief Minister address public meetings.
The hi-tech bus is predominantly hued in red colour of SP. It comprises a mini CM office, kitchen and a lavatory to allow the occupant officiate from it comfortably. 
A life size image of Akhilesh riding a bicycle also adorns its exterior. The bus is equipped with Wi-Fi connection, while Akhilesh would also be able to keep track of the latest news on a large TV screen.
The supporters of both Akhilesh and Shivpal factions are keeping an eye on the development and the entire route of yatra is dotted with hoardings, banners and colourful arches to welcome the 'Vikas Sey Vijay Tak' rath yatra starting from here. 
A hoarding put up by a youth leader close to Shivpal says "Shivpal kahey dil se, Akhilesh ka abhishek phir se" (Shivpal says from his heart to make Akhilesh CM again), while some others only highlight Akhilesh's achievements. 
"The hoardings put up by the leaders show the state of confusion in the party. It's visible on roads. We wish this confusion to end with the start of this yatra," a senior SP leader said. 
A cavalcade of over 5,000 SUVs and trucks will seek to send a message to the party leadership that 43-year-old Akhilesh is the "most acceptable" face of SP. 
The pro-CM camp, which has expelled SP leaders, is working overtime to make it one of the biggest political shows of recent times, coming close on the heels of Congress vice president Rahul Gandhi's month-long Deoria-to-Delhi 'kisan yatra'. 
Another gala event is scheduled for Saturday to mark SP's silver jubilee.
Seeking to cobble together a 'mahagathbandhan', Mulayam has sent out invitations to all "secular and like-minded" leaders of various parties like RJD and JD-U. But, chances of these leaders making it to the event appeared remote since the date clashes with 'Chhath Puja', a major festival in Bihar. 
Last week, Mulayam's younger brother and state SP chief Shivpal had met JD(U) leader K C Tyagi and RLD chief Ajit Singh to invite them to the anniversary bash in Lucknow. 
Shivpal had said Lohiaites and followers of Charan Singh should join hands to beat BJP in Uttar Pradesh. 
Samajwadi Party, which was initially part of Bihar's grand alliance, had walked out of it after it was offered only a handful of seats to contest the assembly elections there. 
The grand alliance of JD(U), RJD and Congress had, however, scripted a glorious electoral victory, defeating the BJP-led NDA. 
Shivpal had recently blamed his estranged cousin Ram Gopal Yadav for Samajwadi Party's decision to walk out of the alliance in Bihar. 
Ram Gopal, a Rajya Sabha member, has been backing Akhilesh in his fight against Shivpal. Ram Gopal was recently sacked from the party amid escalating tension between the rival camps. 
Given the unusual belligerence shown by Akhilesh, the party apparently wants to fortify its position by bringing in new friends. 
SP's main aim in the polls is to prevent split of Muslim votes for which it is looking for an alliance with "secular" parties. 
Congress' poll strategist Prashant Kishor yesterday held a two-hour meeting with Mulayam, who is trying to cobble together an alliance of like-minded parties. 
Kishor, along with SP leader Amar Singh, met Yadav at his Delhi residence, apparently to discuss the possibility of an alliance before the poll dates are announced. 
Akhilesh, who ruled out parting ways with Samajwadi Party in the wake of the unprecedented family feud, has said he will participate in the silver jubilee event, though a large number of his loyalists are likely to boycott the show in view of the strife in the party. 
With PTI Inputs