Follow us on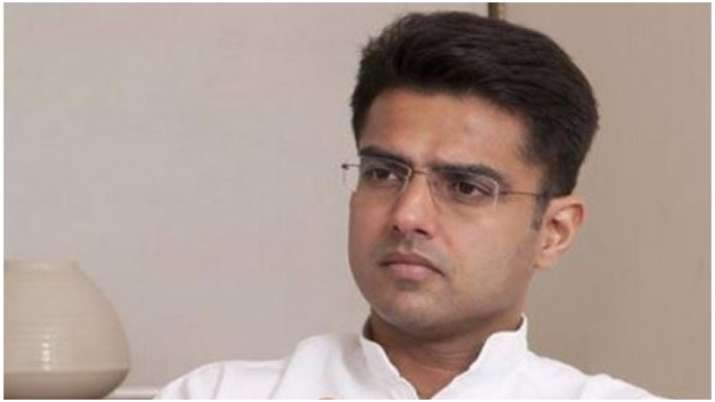 Jyotiraditya Scindia was inducted in BJP on Wednesday in presence of BJP working president JP Nadda. Scindia resigned from Congress,the party he was working 18 years for, on Tuesday. In his rebellion,He took with him 22 Congress MLAs which seriously undermined Kamal Nath government's majority, which was wafer-thin to start with.
Madhya Pradesh Government Crisis updates March 11 | As it happened
8:41 pm: Unfortunate to see Jyotiraditya Scindia parting ways with Congress. I wish things could have been resolved collaboratively within the party, says Sachin Pilot
6:30 pm: "I feel bad that Jyotiraditya Scindia left party," says Mallikarjun Kharge
5:46 pm: "We are waiting to see what happens in Madhya Pradesh, people have faith in Kamal Nathji's abilities, says Sharad Pawar
5:30 pm: District collectors of Guna, Gwalior, Neemuch, Vidisha and Harda transferred.
4:52: pm  "The arrival of my nephew (in BJP) will provide even more strength to PM Modi in politics at the centre. Ek bahut bada stambh, aage ki peedhi ka aur aaj ka bhi, gira hai Congress mein aur wo wajan ab hamari party mein aa gaya hai," says Vasundhara Raje Scindia. She was quoted by ANI
4:06 pm: Anand Sharma addresses press conference.
15:54:  Congress MLAs reach Buena Vista Resort in Jaipur.
15:45: Government will be formed under Shivraj Singh Chouhan's leadership: Yashodhara Scindia
BJP leader Yashodhara Scindia said, "Very happy today. The government will be formed under Shivraj Singh Chouhan's leadership. We're happy as I've worked under him and I know what wonderful schemes we had for people and today we don't have those. Best wishes to my nephew, hope we'll have a good aunt-nephew combination."
15:31: BJP nominates Jyotiraditya Scindia, Harsh Chauhan for Rajya Sabha from Madhya Pradesh.
15:21: Rajmata would be elated: Vasundhara Raje Scindia
15:15: Former Madhya Pradesh CM Shivraj Singh Chouhan addresses media.
As Scindia joins BJP, Former Madhya Pradesh CM Shivraj Singh Chouhan addressed the media.
It's a joyous day for BJP and me personally. Today, I remember Rajmata Scindia ji. Jyotiraditya M Scindia has become a member of BJP family. Yashodhara ji is here with us. 

The entire family is with BJP. They have a tradition where politics is a medium to serve people.

If there was anyone in Congress who was popular, it was 'Maharaj' (Jyotiraditya Scindia) so we used to say 'Maaf Karo Maharaj'. Now Maharaj and Shivraj will together under BJP government.
14:59: Scindia addresses media after joining BJP
There have been 2 life-changing events for me - one, the day I lost my father and the second, yesterday when I decided to choose a new path for my life...The Congress party is not anymore the party that it was earlier.
I would like to thank JP Nadda ji, PM Narendra Modi, Home Minister Amit Shah that they invited me to their family and gave me a place in it.
Congress is not the same as what it used to be. It has lost the goal.
In these 18 months of power, my dreams of serving the people of Madhya Pradesh shattered.
I can say with confidence that the aim of public service is not being fulfilled by that party (Congress). Besides this, the present condition of the party indicates that it is not what it used to be.
Farmer loans have not been waived off even after 18 months.
14:54 pm: JP Nadda addresses media after Scindia's induction in BJP
I welcome Jyotiraditya Scindia as a member of BJP.
The entry of Jyotiraditya Scindia in BJP is like a family member coming back to the party.
JP Nadda expresses happiness over Jyotiraditya Scindia joining BJP, remembers his grandmother and party's co-founder late Vijaya Raje Scindia.
14:52: Jyotiraditya Scindia joins BJP
14:50 pm: JP Nadda, Dharmendra Pradhan, Vinay Sahastrabuddhe, Anil Jain present at Scindia's induction event.
14:45 pm: JP Nadda reaches BJP HQ.
14:40 pm: Jyotiraditya Scindia to join BJP shortly
14:38 pm: Such opportunists should have left the party much earlier: Rajasthan CM Ashok Gehlot
Commenting on Jyotiraditya M Scindia's quit from the party, Rajasthan CM Ashok Gehlot, at Jaipur Airport, said, "Such opportunists should have left the party much earlier. Congress party gave him so much for 18 years. Mauka aane pe maukaparasti dikhai hai. People will teach him a lesson."
14:32 pm: Jyotiraditya Scindia arrives at BJP HQ, to be inducted shortly​
14:20 pm: Amit Shah, JP Nadda to be present to induct Jyotiraditya Scindia.
14:12 pm: Breaking: Jyotiraditya Scindia leaves for BJP HQ to join the party.
14:00 pm: Nameplate of Jyotiraditya Scindia removed from Congress office in Bhopal
13:50 pm: Scindia could have been Cong nominee to Rajya Sabha but "only Modi-Shah" can give Cabinet post to the "over-ambitious" leader: Digvijay Singh
13:35 pm: BJP leader Zafar Islam visits Jyotiraditya Scindia
Amid anticipation over Jyotiraditya Scindia's induction in BJP, BJP leader Zafar Islam reached Scindia's residence in Delhi.
13:22 pm: Suspension of 7 Congress MPs revoked
Congress has revoked the suspension of seven MPs
12:56 pm: Scindia to join BJP at 1:30 pm
12:31 pm: Lakhan Ghanghoriya, MP's Social Justice Minister to India TV: "Sarkar puri tarah sey surakshit hai [Government is completely stable]".
12:21 pm: 19 MLAs who resigned yesterday will not join BJP: Sajjan Singh Verma
Senior Madhya Pradesh Congress leader Sajjan Singh Verma said, "Nobody is ready to go with Scindia ji. They said they were misled and taken to Bengaluru, most of them said they are not ready to join BJP."
12:17 pm: Jaivardhan Singh, Raghogarh Congress MLA and MP's Urban Development and Housing Minister to India TV: All Congress MLAs are supporting Kamal Nath. We have full faith in Congress MLAs. We will not allow anyone to take advantage of this situation.
12:13 pm: Congress senior leaders Mukul Wasnik, Harish Rawat reach Jaipur
Congress senior leaders Mukul Wasnik, Harish Rawat have reached Jaipur, they will be accompanying party MLAs from Jaipur Airport to Resorts.
12:08 pm: Scindia to reach Bhopal tomorrow
After his induction in BJP on Wednesday, Jyotiraditya Scindia to reach Bhopal tomorrow at 4 pm.
12:00 noon: Congress MLAs in Bengaluru to come back soon: Kamal Nath's son 
Chief Minister Kamal Nath's son Nakul Nath said that the Congress MLAs in Bengaluru will soon come back and support the incumbent government.
11:50 am: Congress workers stage protest outside Bengaluru resort
11:42 am: Congress MLAs board bus from CM Kamal Nath's residence to go to Bhopal airport
Congress MLAs have boarded bus from CM Kamal Nath's residence to go to Bhopal airport.
11:21 am: Rahul Gandhi slams PM for destabilizing elected govt and not mulling over fuel prices
Congress leader Rahul Gandhi in his tweet slammed PM for destabilizing​ the elected government and not considering the drop in international crude oil prices. 
11:04 am: Jyotiraditya Scindia to be inducted in BJP at 12:30 pm in JP Nadda's presence
Jyotiraditya Scindia will be inducted in BJP at 12:30 pm in the presence of party president JP Nadda.
10:54 am: Rahul Gandhi refuses to comment on Madhya Pradesh political crisis
Congress leader Rahul Gandhi refused to comment on anything about the current situation of the Madhya Pradesh government.
10:23 am: PM Modi, Amit Shah discuss the current political scenario of Madhya Pradesh
Prime Minister Narendra Modi and Union Home Minister Amit Shah held a meeting on Wednesday to discuss the current situation of Madhya Pradesh politics.
10:21 am: Independent MLA Surendra Singh Shera arrives at CM Kamal Nath's residence
Independent MLA Surendra Singh Shera arrives at Madhya Pradesh Chief Minister Kamal Nath's residence​ in Bhopal.
10:05 am: 4 independent MLAs to support Congress: Shobha Oza​
Congress leader Shobha Oza claimed that the four independent MLAs of the state are with Congress, including those who supported Jyotiraditya Scindia earlier.
09:32 am: Kamal Nath ministers to leave for Bengaluru today​
Sajjan Singh Verma and Govind Singh, ministers in the Kamal Nath government will be leaving for Bengaluru today morning. Other Congress MLAs from Madhya Pradesh will be leaving for Jaipur.​
09:22 am: Scindia was not at all sidelined, says Digvijay Singh
Senior Congress leader Digvijaya Singh on Wednesday said that Jyotiraditya Scindia, who quit the party yesterday, was "not at all sidelined".
Taking to Twitter, Singh said that nothing in the Gwalior Chambal division moved without his consent in the last 16 months.​
08:39 am: Jyotiraditya Scindia likely to join BJP today
Former Congress leader Jyotiraditya Scindia, who resigned from the party after serving 18 years, is likely to join Bhartiya Janta Party today at 12 noon.
08:18 am: Congress tasks senior leaders for crisis management in Madhya Pradesh​
At a time when uncertainty looms large over the fate of Kamal Nath government in Madhya Pradesh, Congress interim president Sonia Gandhi has tasked party's central leaders for resolving the crisis and take charge of the situation in Bhopal.​
07:35 am: Madhya Pradesh BJP MLAs are staying at ITC Grand Bharat in Gurugram. 
ALSO READ | Congress leaders slam Scindia, say he chose 'personal ambition' over ideology
ALSO READ | Holi not so happy for Congress as Jyotiraditya Scindia severs 18-year ties, looks at BJP