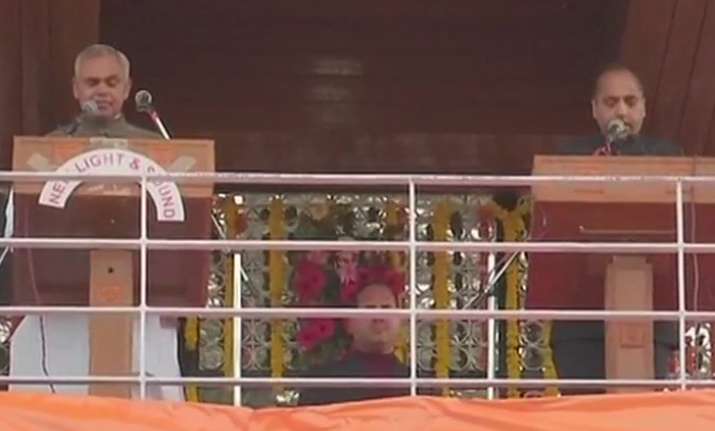 Five-time Bharatiya Janata Party MLA Jai Ram Thakur on Wednesday was sworn in as the 14th chief minister of Himachal Pradesh in a star-studded ceremony that was attended by PM Narendra Modi, BJP chief Amit Shah along with several Union ministers and chief ministers of BJP-led states.
Governor Aacharya Devvrat administered the oath of office and secrecy to Thakur. The swearing-in ceremony was held amid beating of drums and playing of 'shehnais' at the historic Ridge.
Thakur, who rose through the ranks and is known for his humble, clean and low-profile nature, ahead of the ceremony said his top priorities would be restoring law and order situation, to do away with the VIP culture, to review all decisions of the previous Congress government in past three months and to minimise wasteful expenditure.
His family members, comprising his 80-year-old widowed mother, who belonged to a remote village in Mandi district, attended the ceremony.
HIMACHAL PRADESH SWEARING-IN CEREMONY: AS IT HAPPENED
11:50 am: Vikram Singh, Rajeev Sehjal take oath as minister.
11:49 am: PM Narendra Modi is attending the swearing-in ceremony of Himachal Pradesh Chief Minister Jairam Thakur.
11:48 am: Virender Kanwar, who was ready to leave seat for Prem Kumar Dhumal, takes oath.
11:47 am: Ram Lal Markanday from Lahaul and Spiti takes oath.
11:34 am: Mahendra Singh, Suresh Bhardwaj, Anil Sharma, Kishan Kapoor, Sarveen Choudhary  take oath.
Shimla: Mahendra Singh, Kishan Kapoor and Suresh Bhardwaj take oath as cabinet ministers of Himachal Pradesh government pic.twitter.com/jofTytgqYZ

— ANI (@ANI) December 27, 2017
11:22 am: Five-time Bharatiya Janata Party MLA Jai Ram Thakur takes oath as Himachal Pradesh Chief Minister.
#WATCH Oath taking ceremony of Himachal CM elect Jairam Thakur and others in Shimla in the presence of PM Modi https://t.co/UmlrABGVsI

— ANI (@ANI) December 27, 2017
11:07 am:  Uttar Pradesh Chief Minister Yogi Adityanath and Home Minister Rajnath Singh reach Shimla.
Shimla: Union Ministers Nitin Gadkari, Rajnath Singh & UP CM Yogi Adityanath present for soon to begin oath taking ceremony of Himachal Pradesh CM elect #JaiRamThakur; PM Narendra Modi to arrive shortly pic.twitter.com/SroFVjwj4w

— ANI (@ANI) December 27, 2017
11:02 am: Mahendra Singh, Suresh Bhardwaj, Anil Sharma, Sarveen Choudhary, Ram Lal Markand, Vipin Singh Parmar, Virender Kanwar, Vikram Singh, Govind Singh and Rajeev Sehjal to take oath as Cabinet ministers along with Jairam Thakur.
10:45 am: PM Narendra Modi arrives in Shimla for the swearing-in ceremony of Jairam Thakur as the Chief Minister of Himachal Pradesh. The oath-taking ceremony is scheduled to begin shortly.
10:25 am: PM Narendra Modi arrives in Chandigarh, he will be attending swearing-in ceremony of Jairam Thakur at Ridge Ground in Shimla.
09:28 am: Besides seating arrangements, eight to ten LED screens have been installed outside the venue. Special Protection Group (SPG) will look after the security arrangements.
Ridge ground in #Shimla all geared up for the swearing in ceremony of CM elect #JairamThakur and others #HimachalPradesh pic.twitter.com/scV19gKy3k

— ANI (@ANI) December 27, 2017
09:23 am: The Ridge Ground turned saffron with BJP flags fluttering all around and cut outs of Modi, Amit Shah and Jai Ram Thakur dominating the scene.
09:18 am: "The Cabinet will have both experienced and new faces," Thakur said in his first official interaction with reporters a day after being elected as the BJP Legislature Party leader in the Assembly.
#JairamThakur to take oath as the Chief Minister of #HimachalPradesh, today; people start gathering at the venue of the swearing-in ceremony in Shimla pic.twitter.com/41UtYvLjHy

— ANI (@ANI) December 27, 2017
08:47 am: Jairam Thakur will be the first chief minister from Mandi, the second largest district of the state.
08:39 am: The five-time BJP MLA from Seraj constituency was elected to lead Himachal Pradesh after the party's chief ministerial candidate Prem Kumar Dhumal failed to register a win from his constituency.
08:26 am: The 52-year-old Thakur leader edged past party stalwarts in the race to the top office and will be the first leader from the politically-significant Mandi region to helm the hill state.
08:21 am: Thakur, a former state unit chief and rural development and Panchayati Raj minister in a government headed by Dhumal, was elected the leader of the BJP legislature party on Sunday.
08:18 am: The BJP has ousted the Congress from power in the state by winning 44 out of the 68 seats in the recently held Assembly elections.
07:37 am: This is for the first time that the prime minister will attend an oath-taking ceremony.
07:22 am: Thakur emerged as a front runner after Dhumal and state party chief Satpal Satti were defeated in the November 9 elections. The poll results were declared on December 18.