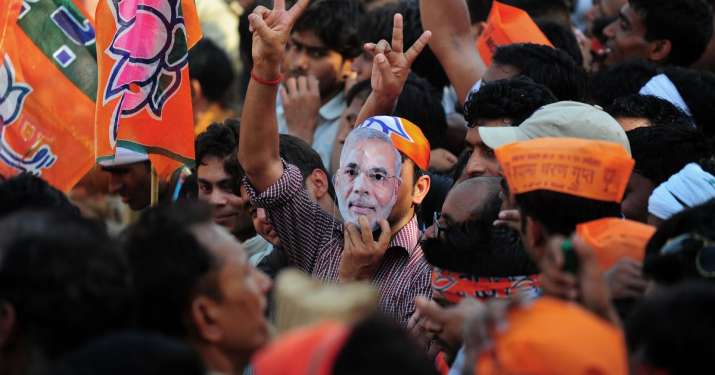 Apart from the high-voltage political drama in Karnataka which seems to have found its end with the formation of the Congress-JD(S) coalition government, the elections also raised questions on whether the BJP's tally in the Lok Sabha has gone down the majority mark of 272. 
While a few reports  and discussion on social media have claimed that the saffron party has fallen short of the magic number by one seat, the data on the official website of the Lok Sabha contradicts these claims.
With two of the BJP's Lok Sabha members – BS Yeddyurappa and B Sreeramulu – resigning to take oath as MLAs on May 19, the party's count comes down to 272 from the previous 274, which includes Lok Sabha Speaker Sumitra Mahajan, who is also a BJP MP.  
The Lok Sabha website, until 7:20 pm on Thursday, showed Yeddyurappa and Sreeramulu as MPs. 
However, quoting Lok Sabha sources, PTI had reported on May 22 that their resignation have been accepted although there is no official confirmation in this regard till date.
So is C.S. Puttaraju of the JD(S), whose name also figures on Lok Sabha website despite that fact that he had also resigned from the Lok Sabha after his election to the Karnataka Assembly.
Now, even if we consider that the Lok Sabha is yet to update the numbers, the BJP will still have 272 members – the exact number required for a simple majority in a House of 543 members. 
However, what remains a fact is that BJP's numbers have come down from 282, which it had after the 2014 Lok Sabha elections. In these four years, the saffron party has lost six bypolls – Gorakhpur and Phulpur in Uttar Pradesh, Ajmer and Alwar in Rajasthan, Gurdaspur in Punjab and Ratlam in Madhya Pradesh, while winning five – Vadodara, Lakhimpur Shahdol, Beed and Kandhamal. 
Also, the party continues to face a major concern as one of its primary allies, the Shiv Sena with 18 MPs, has been threatening to pull out of the government and has already declared that it will fight the 2019 general elections on its own.
Bypolls on four Lok Sabha constituencies – Kairana in Uttar Pradesh, Palghar and Bhandara-Gondiya in Maharashtra and the lone seat in Nagaland – are scheduled to be held on May 28. 
Even if the BJP faces defeat in all four Lok Sabha bypolls scheduled in the last week of May, it would not worry the party much as its allies in NDA like Lok Jan Shakti Party (LJP),  Shiromani Akali Dal (SAD) and JD(U) etc have enough numbers in the Lower House to support the government.