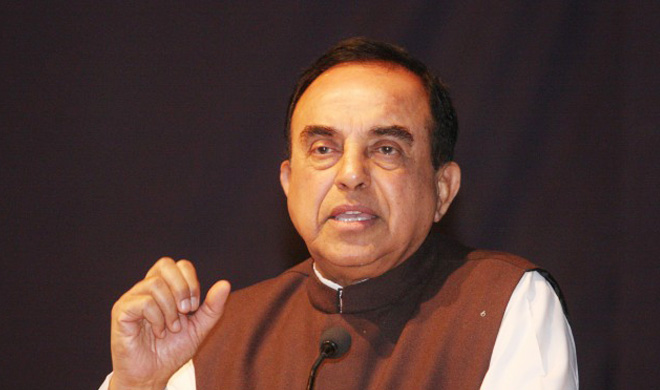 Senior BJP leader Subramanian Swamy today raised the issue of the continuing dispute over the exact number of bullets fired on Mahatma Gandhi that led to his death on 30 January, 1948.
The issue led to heated exchange between him and Congress members in the upper house.
BJP member Subramanian Swamy's attempt to raise the issue of Mahatma Gandhi's assassination in the Rajya Sabha today saw heated exchange between him and Congress members.
Raising the issue during Zero Hour, Swamy said the Modi government has placed most of the files regarding the assassination in the National Archives. Stating that he had a chance to go through the files, Swamy said lot of "scurrilous comments" were being made and "even parliamentarians are making these remarks and the Supreme Court has had to pull them up and give them a stern warning".(Also Read: Uproar after SP member names RSS leader in Rajya Sabha).
"So it's time the House discuss it and I can for the benefit of the House point three basic facts which have come out of my reading of the archival records," he said. As he was about to make his first point, Anand Sharma (Congress) rose to say something, but could not be heard. Deputy Chairman P J Kurien told Sharma that Swamy has been permitted to raise the issue, even as Swamy alleged that Sharma "is questioning the Chair." Kurien advised Sharma to hear Swamy before objecting.
"Anand Sharmaji, unless you hear what he says, how can you object," the Deputy Chairman said. Kurien also said that Swamy has only spoken about the Supreme Court making some observations but has not named anybody.
The Chair asked Swamy to continue with his statement, but not take anyone's name. To this, the BJP MP said: "I am not taking any name except that of Mahatama Gandhi's. I will not take any other Gandhi name", evoking peals of laughter especially in the treasury benches. He further said Mahatma Gandhi's mortal remains were not subjected to any post-mortem and as a consequence there was a dispute on the number of bullets fired. He said while newspapers wrote four bullets were fired upon him, the prosecution said the number was three.
Swamy could not complete his speech as his allotted time got over and Question Hour was taken up. Last week, the Supreme Court had asked Congress Vice President Rahul Gandhi to either apologise over his statement blaming RSS for Mahatma Gandhi's assassination or face trial.
(With PTI inputs)