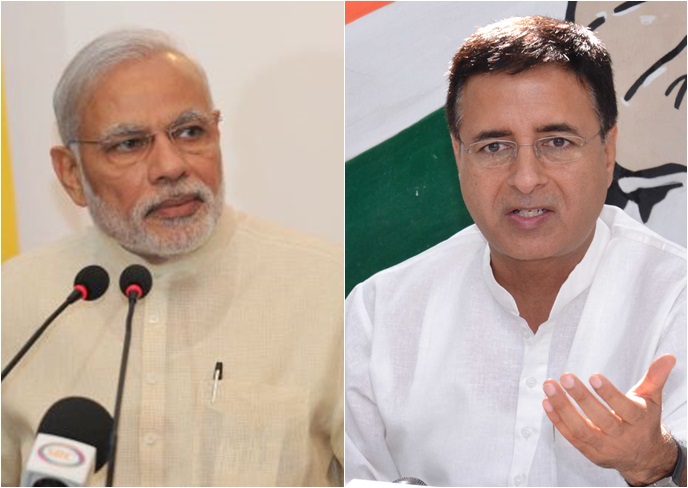 Hitting out at Prime Minister Narendra Modi, the Congress said that his much-awaited New Year's Eve speech on Saturday, was insipid and it has become his character to be in the headline always.
"No deadline, only headline, this has become the move, image and character of the Prime Minister," said Congress spokesperson Randeep Singh Surjewala, adding the party again urged him to withdraw the restrictions imposed on withdrawals post demonetisation.
"Maybe it'll take at least one year to withdraw the restrictions on the withdrawals," he added saying Modi did announce any deadline for withdrawing the restrictions.
Surjewala also said: "We are disappointed with PM's speech, many questions were left unanswered. His decision has paralysed the economy. Country can't run this way."
"The schemes he announced were like like making a mountain out of a molehill. He always talks about the poor, but makes policeis for the 50 industrialist families of the country," he said.
"BJP had a target of one crore houses till 2018. Modi spoke about housing for the poor (PM Awas YOjana), but in first 30 months just 1,623 houses have been constructed out of a target of 7 lakh houses."
Congress spokesperson Sanjay Jha tweeted: "Modi is a monumental disaster. Today is irrefutable evidence of that. #Jumla_e_Modi . Total waste of national time and resources."
Senior Congress leader Ahmed Patel, in a series of tweets, said: "PM's address was very disappointing. Our five demands have not been met, neither there was any road map on when will cash crunch ease.
"No new announcements.Schemes for maternity benefit,housing and credit guarantee repackaged or expanded.Implementation remains a concern.
"PM failed to acknowledge the agrarian distress and did not announce farm loan waiver. Mere 60 day interest waiver will not help farmers plight," he said.
"The Prime Minster's address to the nation has left us with no option but to intensify our agitation and go to the people."
Earlier on Saturday, in his much-awaited New Year eve speech, Prime Minister Narendra Modi announced a slew of sops for the poor, farmers and small traders, the groups perceived to be worst hit by the November 8 demonetisation that caused widespread economic upheaval in the country.
In what sounded more like a budget speech, Modi announced interest subvention on housing for the urban and rural poor, provided enhanced credit guarantees to small traders and MSMEs, gave a 60-day interest waiver on select farm loans and ensured higher interest earnings for senior citizens.
Terming demonetisation as a "historic cleansing ritual", Modi said people of the country had taken the biggest "shudhi yagna" after Diwali, and had, through their stoicism in the face of adversity, proved that a majority of Indians wanted freedom from corruption.
(With IANS inputs)