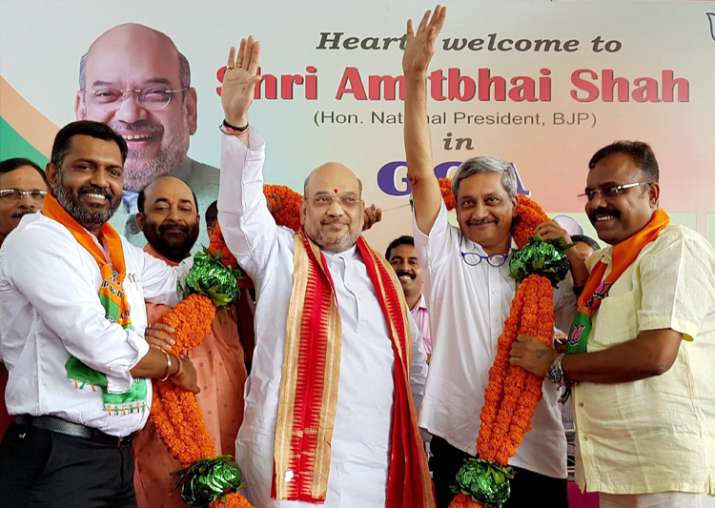 The Bombay High Court on Monday sought response from the Centre and state government and issued notices to Civil Aviation ministry and others over a petition against the public meeting allegedly held by Bharatiya Janata Party (BJP) president Amit Shah in a prohibited area at Goa airport on July 1.
The notices were issued on a petition filed by social activist and lawyer Aires Rodrigues on July 7. In response to the petition, a division bench of Justices F M Reis and Nutan Sardessai issued notices, returnable in three weeks, to the secretary of civil aviation ministry, the Goa chief secretary, the state director general of police, the airport director and the deputy commandant of Central Industrial Security Force (CISF).
The petitioner submitted that the public meeting addressed by Shah was illegal.
"The petitioner seeks to ensure that there is no legal infringement and/or abdication of duty within the legal framework by which a government and/or authorities are permitted to allow high handed violation of law," Rodrigues submitted in his petition.
On July 1, Shah, who was on a two-day visit to Goa, allegedly held a meeting at the airport complex in the presence of Chief Minister Manohar Parrikar and Union minister Shripad Naik.
Rodrigues had then filed a complaint with the civil aviation ministry, Goa chief secretary and the state police chief, terming the meeting as illegal as it was held without any permissions. He alleged that holding a party meeting was a violation of Section 141 (Unlawful assembly) of the Indian Penal Code and put passengers at the airport to inconvenience.
Rodrigues sought that an FIR be registered against the organisers of the event besides Shah and all other dignitaries present at the meeting yesterday. "They cannot now claim to be ignorant of the legal provisions," he said in the complaint.
The Congress too had demanded that a case of trespass be registered in this connection.
The BJP had initially said the party received the necessary permission for the meeting, which took place "not inside the facility as claimed" by others.
However, it later said the crowd, which greeted Shah at the airport, had gathered there spontaneously and that it was "not a planned meeting". 
Dabolim Airport director, B.C. Negi, had last week said that the BJP was not granted permission to hold a rally. "No permissions were given... I will inquire into it," Negi said last Monday.
(With agencies)