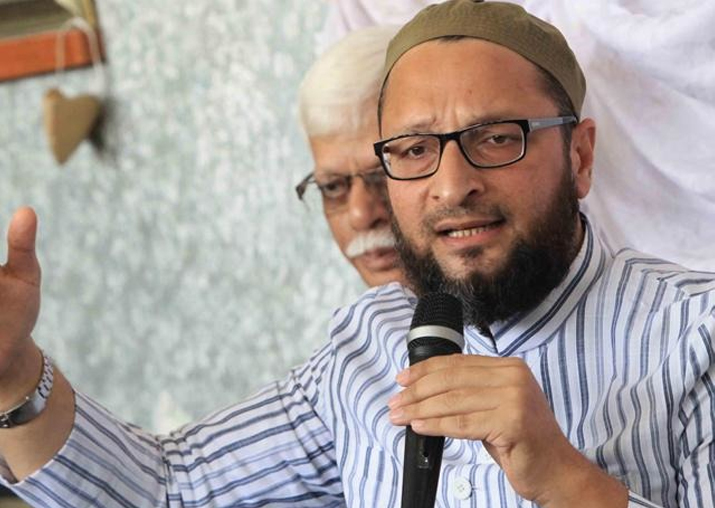 AIMIM chief and Hyderabad MP Asaduddin Owaisi today warned Muslims from talking to anyone on the Ram Janmabhoomi-Babri Masjid dispute in order to find an out of court solution.
Addressing a public meeting in Uttar Pradesh's Sambhal, he also asked them not to give even a single inch of the dispute land in Ayodhya to Hindus for the construction of Ram Mandir.
He said that whoever in the community is taking initiative to hold talks with Hindus, have forgotten the history. Owaisi added that "Muslims are not afraid of the BJP and Modi".
The AIMIM chief also choose to invoke Imam Hussain on the occasion to remind Muslims that he never compromised with the Islamic principles with 'cruel' people. 
"He kept fighting… therefore we also will not compromise with anyone," he said. 
He further blasted the Shia Central Waqf Board for issuing a draft proposal on the resolution of the Ayodhya dispute. Owaisi said that Shia Board has forgot the sacrifice of Imam Hussain.
"People are telling us not to construct Masjid here, instead we should construct our Masjid there. Those who are preaching us on the matter should first look within, what will you tell Allah on the judgement day?… that 'we compromised?'. What will you say 'you surrendered before the cruel people of this world?' Are we so weak that we have to compromise on everything? Whether we succeed or not, but we will not sale our heart," he said.
Last week, spiritual guru Sri Sri Ravi Shankar had visit Ayodhya and met all stakeholders in order to bring everybody on same platform.
The Supreme Court had earlier also said the issue should be amicably resolved through a cordial meeting of all parties. 
The top court will hear the case on 5 December, a day before the 25th anniversary of the Babri Masjid demolition.