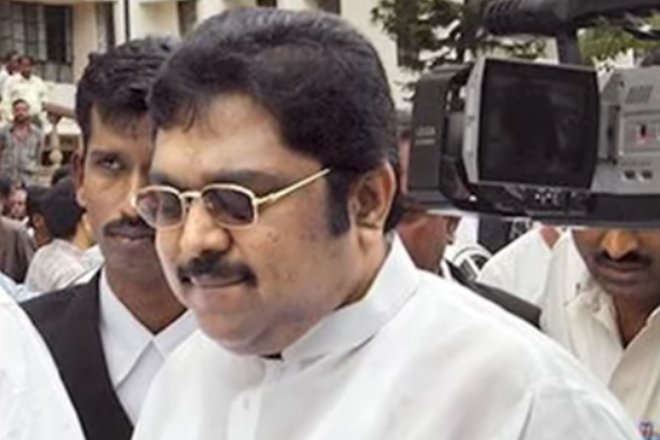 In a significant development, the AIADMK faction led by Tamil Nadu Chief Minister E.K. Palaniswami today declared as null and void the appointment of T.T.V. Dhinakaran, nephew of VK Sasikala, as the Deputy General Secretary of the party.
A resolution to this effect was moved at a meeting chaired by Palaniswami at the AIADMK headquarters in Chennai.
"Dhinakaran's appointment as Deputy General Secretary is illegal as per the party rules. He cannot hold any party post since he was not a party member for a continuous five years," said the resolution.
It added that a case was also pending with the Election Commission regarding his appointment. 
The AIADMK also said that Dhinakaran was creating confusion by appointing several party office bearers. "Therefore, Dhinakaran's announcements also invalid."
Earlier, Chief Minister K Palaniswami said in the meeting that the appointment of Dhinakaran as deputy general secretary was against party rules as he openly questioned their authority.  
It was for the  first time that the chief minister made a categorical assertion about the status of Dhinakaran's appointment by his aunt Sasikala on February 14 just ahead of her incarceration. 
Formally expelling both Sasikala and Dhinakaran was among the pre-conditions the Panneerselvam camp, which is also holding consultations on the possibility of merger, had made.  
The move in both camps is being perceived as coming one step closer to a merger of the two camps by easing out Sasikala and Dhinakaran. 
Noting that Dhinakaran's appointment was also under the scrutiny of the Election Commission, the AIADMK (Amma) led by Palaniswami wondered how Dhinakaran could make new appointments at such a juncture. 
On August 4 Dhinakaran had made several appointments including that of his loyalists to various party posts.  Citing it, a communique to the party cadres, said the meeting also asserted that such appointments being done by him "will not bind any AIADMK cadre to create unnecessary confusion in our party and such appointments are not valid under party law. 
Cadres are requested to reject them." Significantly, the meeting said "Though Sasikala's appointment as general secretary was till such time the formal election of a new general secretary as per party laws, she could not function in view of extraordinary circumstances," an apparent reference to her getting jailed in the disproportionate assets case in February last.  
Also, Sasikala's appointment was challenged and it is pending in the EC, the meeting noted.  Under such circumstances, the party was being run by top functionaries appointed by Amma (a reference to the camp led by Palaniswami), it said. 
Top functionaries and senior state cabinet ministers led by Palaniswami attended the meeting.
(With agency inputs)