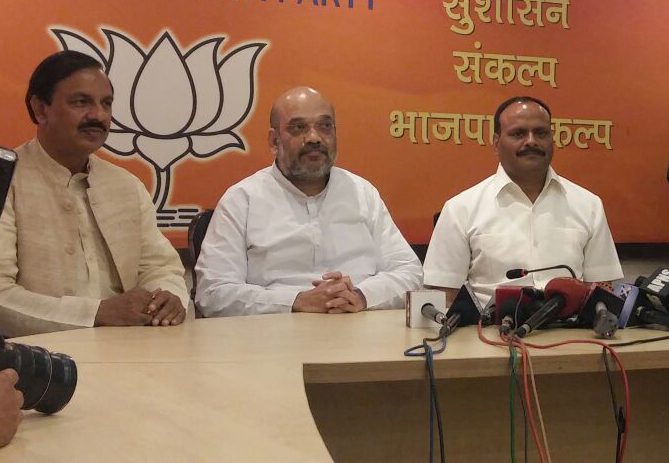 Former Uttar Pradesh Chief Minister Mayawati on Monday faced a setback in the run-up to next year's Assembly elections when two-term BSP MP and prominent Brahmin face of the party Brajesh Pathak joined BJP expressing faith in its "developmental" agenda for poll-bound state.
Ironically, Pathak was one of the biggest faces present during Mayawati's successful rally in Agra on Sunday.
Earlier in the day, Pathak was expelled from the Bahujan Samaj Party for "anti-party activities".
Pathak joined the saffron organisation in the presence of its president Amit Shah and Union minister Mahesh Sharma and was described as a "pillar" in the Hardoi-Unnao region of the state. 
Sharma said Pathak joining BJP will help the party consolidate Brahmin votes. 
Pathak cited "corruption and anarchy" in BSP as reasons for his decision. 
"I thought any delay will be harmful. Only Prime Minister Narendra Modi's developmental agenda and Amit Shah's efforts can rescue UP," he told reporters here. 
Even though he was at the BJP headquarters fulfilling his joining formalities, BSP expelled him for the party, apparently after coming to know of his plans. 
Unlike some BSP leaders, including Swami Prasad Maurya, who tore into BSP supremo Mayawati as they joined BJP, Pathak did not attack her but said nepotism, corruption and goondaism ruled the roost in the state. 
Asked about his presence in the BSP rally yesterday and he joining BJP is less than 24 hours, he said he was doing his job in BSP as long as he was there. 
Pathak said he had played a role in swinging Brahmin voters to BSP during the 2007 Assembly polls, but Brahmins were disappointed by the party. 
BJP is counting on the former Unnao Lok Sabha MP and now a sitting Rajya Sabha member, to help it win over Brahmin voters, who are also being wooed by Congress.