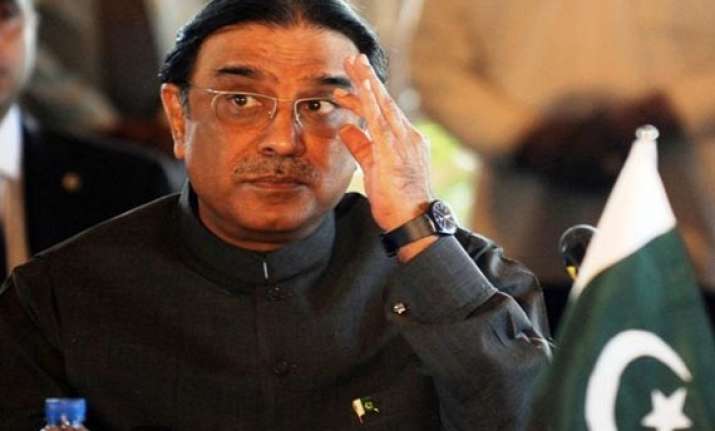 Islamabad, Jun 2 : President Asif Ali Zardari today said he will not contest the next presidential polls later this year as his Pakistan Peoples Party no longer has a majority in the national and provincial assemblies after it was routed in the historic May 11 general elections.
Zardari said he felt he no longer has the right to contest the next presidential election, which will be held once he completes his tenure in September.
Zardari, 57, was elected President in September 2008, when the PPP and its allies were in power at the centre and in Balochistan, Khyber-Pakhtunkhwa and Sindh provinces.
The PPP currently is in power only in Sindh and controls the Senate or upper house of parliament.
It no longer has the numbers to ensure the re-election of Zardari, who became chief of the PPP after his wife was assassinated in December 2007.
 Referring to his future plans, he said he would take on the leadership of the PPP if the party wants him to play such a role.
"This time, I will not have the right (to contest the presidential election) because we do not have a majority. Yes, there can be a fight but that fight will become messy," Zardari said in an interview with a small group of Pakistani television anchors.
"After that, if the PPP considers me capable of leading it, I will take on its leadership. Otherwise, I will function in the capacity of a worker," he said.
Asked about the incoming PML-N government's plans to hold peace talks with the banned Tehrik-e-Taliban Pakistan, Zardari called for a cautious approach, saying it would be better to engage "political forces" instead of directly talking with militants.
"If a dialogue is to be held with these forces and if this is the mandate of this (new) government and they want to hold a dialogue with these forces, then they should first identify which forces are political and which are militants," he said.
"Then by starting a dialogue with the political forces, you can use their influence on the militants because militants, in my view, do not hold dialogues," he said.
The PPP, which led the previous coalition government at the centre, was voted out in last month's polls.
The PML-N attained a simple majority in the National Assembly or lower house of parliament and its chief Nawaz Sharif is set to become Prime Minister for a record third term.
Though Sharif has said he intends to hold a dialogue with militants, the Pakistani Taliban withdrew its offer of peace talks after its deputy chief Waliur Rehman was killed in a recent US drone strike.
Zardari said the PPP-led government had not struck any deal with the US for drone strikes against militants in Pakistan's tribal belt bordering Afghanistan.
He further said he was not aware if former President Pervez Musharraf had concluded such a deal.
"In my view, there is no agreement that we concluded. Those who have said they will shoot down the drones, let them shoot them down. You know about the capability and capacity (of Pakistan), it is not like shooting down an eagle. Suppose the drone is an eagle and you shoot it down. What happens after that?" he said.
Zardari said Nawaz Sharif alone cannot be credited for strengthening democracy in Pakistan as other parties had played a role in this regard.
"I will not give credit only to Nawaz Sharif. There are other political forces like (Jamiat Ulema-e-Islam chief) Maulana Fazlur Rehman, Awami National Party, Muttahida Qaumi Movement and forces like the parliamentarians from the (tribal areas). They have all supported democracy," he said.
He added, "If the Pakistan Tehrik-e-Insaf is going to be their real opposition, then let them (PML-N) expect opposition from it. Let them expect us to be a constructive opposition. We will never resort to negative opposition."
Replying to a question about the National Reconciliation Ordinance, a graft amnesty issued by Musharraf as part of a secret deal with Zardari's slain wife Benazir Bhutto, and cases of alleged money laundering against him in Switzerland, Zardari said these matters no longer had any importance.
He pointed out that he had served eight years in jail in connection with these cases without being convicted.
"These cases went up to the Supreme Court. This is the same case in which it was said that bias is floating on the surface. These are controversial positions and controversial cases. In my view they have no importance," he said.
Zardari further said the PPP-led government had done more for the insurgency-hit and impoverished Balochistan province than the Baloch people themselves.
"The government did a lot for Balochistan, the Baloch themselves did nothing. By and large, if I say I am disappointed, it is more in the Baloch and not in the (government)," he said.
The federal government had waived Balochistan's debts worth Rs 40 billion and formed a parliamentary committee that gave the Baloch people their rights and more funds for development, he said.
"But you cannot help those who are not willing to help themselves," he added.