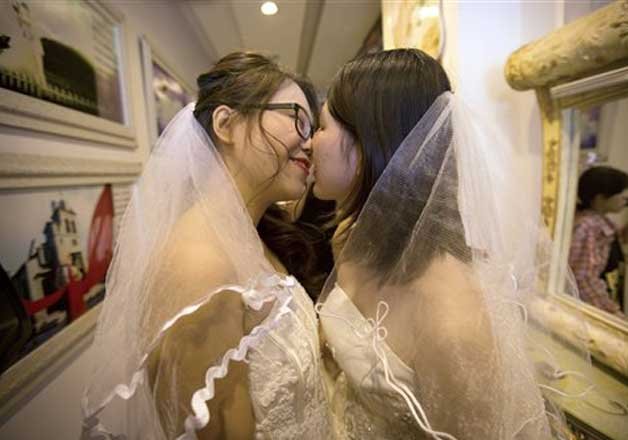 Beijing: US Supreme Court's decision to legalize same sex marriage in United States is making its flutters felt around the globe, so much so that even otherwise conservative Chinese society has opened up on the issue. The verdict has triggered a nation wide debate in China. Leading dailies and academics are weighing in, Chinese social media -- the surest indicator of country's middle-class opinion -- are flooded with posts and tweets, and gay-pride rainbow flags are being posted on Chinese e-commerce websites.
Inspired by US Supreme Court verdict, a prominent Chinese lesbian couple did the unthinkable, they defied country's law and held a simple ceremony on Thursday to announce their informal marriage.
Li Tingting and Teresa Xu tied the knot six days after the U.S. Supreme Court ruled in favour of same-sex marriages in the United States, and four months after Li was detained in China for her women's rights activism.
China does not legally permit same-sex marriage, and there is no broad social effort to push for its legalization.
"I do," Li said in English, as friends cheered. "So do I," replied Xu, also in English.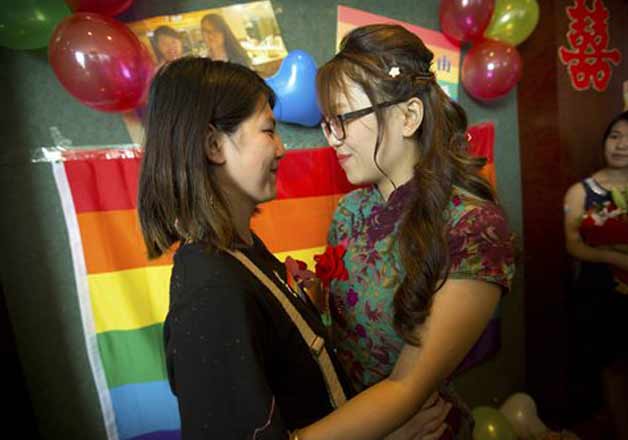 The couple exchanged their vows in English and put on silver rings serving as wedding bands in front of about 20 friends and an equal number of journalists gathered at a restaurant in a suburb of Beijing decorated with balloons, rainbow flags and their photos.
"We want to take some action to advocate for same-sex marriage," Li said earlier in a salon, while Xu was having her hair styled. "It's doing the impossible when you know it's impossible, but it takes those constant efforts to make changes in history."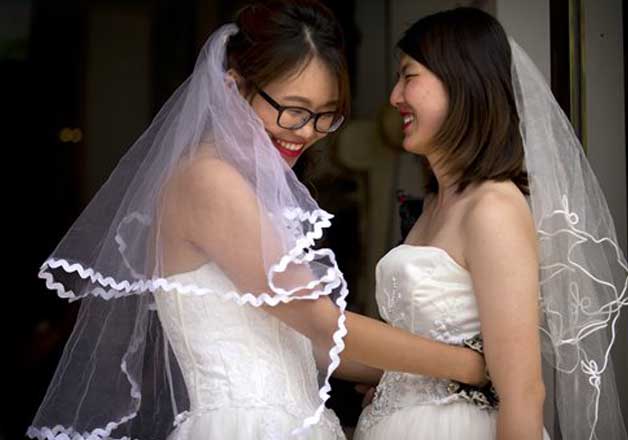 Li was detained in early March with four others amid China's crackdown on social activism. They were taken into police custody in a criminal investigation over their plans to hand out stickers and flyers denouncing sexual harassment. Foreign governments, rights groups and Hillary Clinton, who is running for U.S. President, criticized their detention. The five were released 37 days later, although they remain criminal suspects.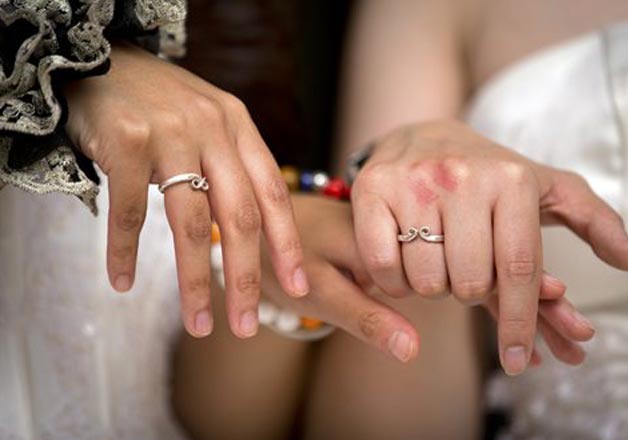 The experience prompted Xu to consider a stronger bond with Li. "I love her, and after her detention I wanted to be closer to her but not merely as her girlfriend," Xu said. "I love her courage and her sense of justice."
The U.S. Supreme Court decision inspired them to seek their own version of a same-sex marriage, Li said.
"That's a U.S. law. What use does it have in China?" Li said. "We think we should do something ourselves."
Within days, the couple picked up wedding gowns, scheduled salon sessions for their hair and makeup and reserved the banquet room.
The couple had initially considered showing up at the local civil affairs office to apply for a marriage license but stopped the plan so as not to upset the authorities.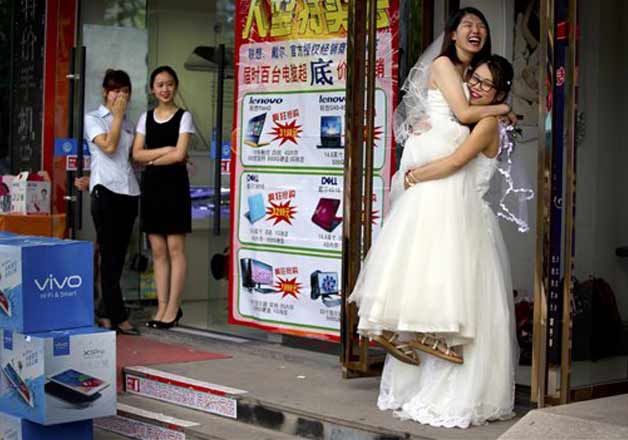 "They could detain me on the charge of assembling illegally or provoking trouble to disrupt social order," Li said.
Li said state security officials had contacted her to inquire about the ceremony, and that she was worried about the possibility of being detained again.
"We are a bit nervous and excited that our wedding should get this much attention," she said at the ceremony.
Homosexuality was only decriminalized in China in 1997 and it was removed from the official list of mental illness in 2001.
First same sex marriage in China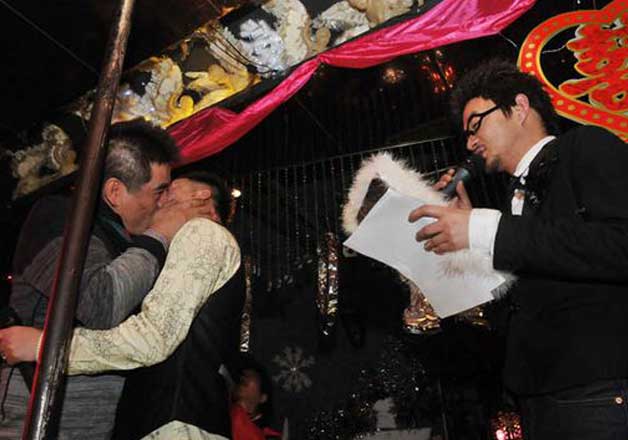 On January 13, 2010, China Daily published a front-page splash photo of a Chinese couple, Zeng Anquan, a divorced architect aged 45, and Pan Wenjie, a demobilized PLA soldier aged 27, being married at a gay bar in Chengdu what is known as the first same sex marriage in China. The marriage is understood as having no legal basis in the country, and the families of both men reacted negatively to the news of their marriage.
A poll conducted in 2009 showed that over 30% of the Beijing population supports same-sex marriage, while the rest were unsure or opposed. China does not have any same-sex union recognition laws, Beijing and Hong Kong currently provide dependent residency status to the same-sex partners of legal residents, such as expats.
same sex marriage in ancient China
The existence of homosexuality in China has been well documented since ancient times. According to one study, homosexuality in China was regarded as a normal facet of life in China, prior to the Western impact of 1840 onwards.Ώ] However, this has been disputed.ΐ] Many early Chinese emperors are speculated to have had homosexual relationships, accompanied by heterosexual ones.