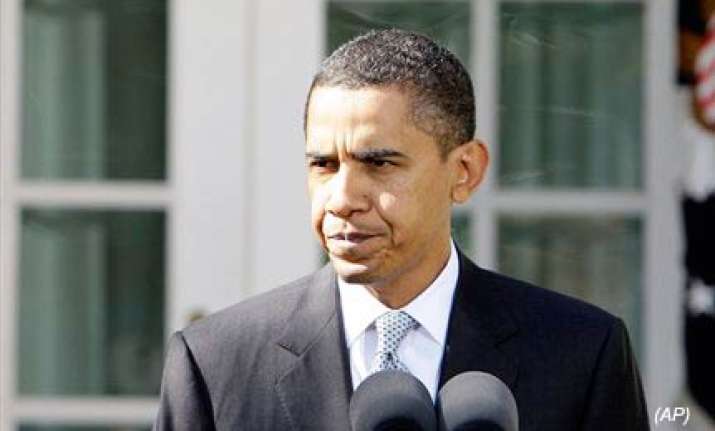 Talking tough, US President Barack Obama has vowed to deny a safe haven to al-Qaeda and reverse "Taliban's momentum" in Afghanistan, as he asked his counterpart Hamid Karzai to act decisively against corruption on his first visit to the country.
Obama, who made a whirlwind surprise visit to Kabul and met Karzai and American troops stationed there, said his country's aim was to "destroy" and "dismantle" al-Qaeda and its extremist allies in both Afghanistan and Pakistan.
The President, whose administration has escalated the war in Afghanistan, approving an influx of 30,000 additional American troops, also reiterated his resolve to strengthen the capacity of Afghan forces and the government to enable them take responsibility and gain confidence of their own people.
"We are going to disrupt and dismantle, defeat and destroy al-Qaeda and its extremist allies. That is our mission. And to accomplish that goal, our objectives here in Afghanistan are also clear: We're going to deny al-Qaeda safe haven. We're going to reverse the Taliban's momentum," Obama said in his address to US soldiers at the Bagram airfield.
"We can't uproot extremists and advance security and opportunity unless we succeed on both sides of the border," he said.
He also renewed the US' efforts on the civilian front which would result "in an Afghanistan that is more prosperous, more secure, independent; is not subject to meddling by its neighbours; a transition will be able to occur so that more and more security efforts are made by the Afghans".
Obama said al-Qaeda and their extremist allies were not only a threat to the people of Afghanistan and America, but also a threat to the people all around the world.
During his unannounced trip, Obama also pressed Karzai on the issue of governance, asking him to act decisively against corruption.
The message was conveyed to Karzai and his Cabinet by Obama himself last night during his trip that lasted for a little over five hours.
Addressing a joint press conference with Karzai, Obama reiterated his strong support and commitment for Afghanistan.
"I want to send a strong message that partnership between the US and Afghanistan is going to continue. We have seen already progress with respect to the military campaign against extremism in the region," Obama said in his statement.
Earlier he told the troops that this was the region where perpetrators of 9/11 crime still had their leadership.
"If this region slides backwards, if the Taliban retakes this country and al-Qaeda can operate with impunity, then more American lives will be at stake. The Afghan people will lose their chance at progress and prosperity. And the world will be significantly less secure," he said.
Apart from the military effort to take the fight to the Taliban, Obama said his Afghan policy included civilian effort which aimed to improve daily lives of Afghans, combat corruption, and a partnership with Pakistan and its people.
Asserting that it was vital to uproot extremists on both sides of the Pak-Afghan border, he also referred to the military offensive mounted by Pakistan against terrorism.
"We've seen violent extremists pushed out of their sanctuaries. We've struck major blows against al-Qaeda leadership as well as the Taliban's. They are hunkered down. They're worried about their own safety," he said, adding America would be more secure with these efforts.
The United States would continue to pursue the Taliban and al-Qaeda as it was required to ensure the safety of American families back home, he added.
The US President also invited Karzai to visit Washington in May to have a discussion about their long-term strategic interests between the two countries.
"I am very pleased to see that there's been some excellent efforts in terms of partnering Afghan national security forces with US and coalition forces.
"We think that points to the direction that all of us are interested in a day when Afghanistan is going to be able to provide for its own security but continue a long-term strategic partnership with the United States," he said.
Karzai hoped the process would continue towards the formation of a stable, strong, peaceful country that can sustain itself, and move forward into the future with confidence and better hopes.
"I had a good discussion of the issues between our two countries, about the region, and of continued struggle against extremism and terrorism. We will be continuing our conversation later on," Karzai said.
Later, a senior administration official said the two leaders had a productive and useful meeting.
"Then obviously trying to set the stage for what comes next here, including their plans for continuing to stay in close touch," the official said.
Earlier, National Security Advisor General (Rtd) James Jones told reporters that the corruption in Afghanistan was one of the major issues for the US.
"The President (Karzai) needs to be seized with how important that is. This is something that simply has to be done," Jones said.
The US has to develop strategic rapport with President Karzai and his cabinet to chart out the way to reverse the momentum of Taliban and the opposition forces, the senior US official added. PTI