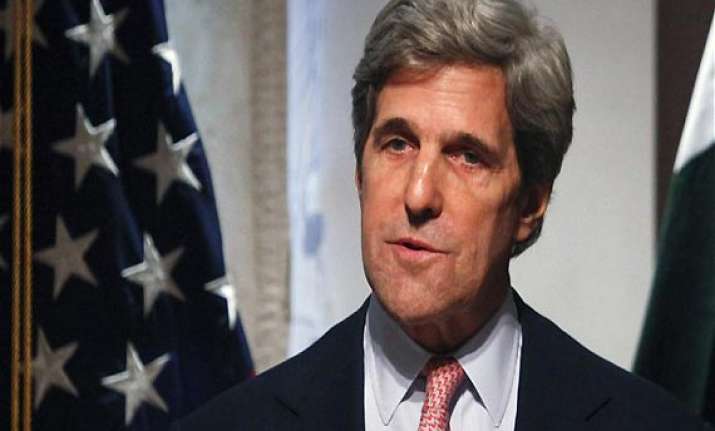 Islamabad, August 1: Visiting US Secretary of State John Kerry on Thursday opened talks on cooperation with Pakistan to effectively fight terrorism.
The talks also focused on the controversial drone strikes, enhancing economic cooperation and the role the two sides play in elusive Afghan peace, Xinhua quoted officials as saying.
Kerry, the first senior American official to visit Pakistan since a new government assumed office in June, arrived here late Wednesday to review prospects for future relationship with Prime Minister Nawaz Sharif.
The delegation level talks started at the foreign office in Islamabad, foreign ministry sources said.
The Pakistani delegation is being led by Advisor to Prime Minister on National Security and Foreign Affairs Sartaj Aziz.
The two sides are discussing bilateral relations,the Afghan situation and cooperation in diverse fields including energy and education, officials said.
The ministry earlier said that Pakistan would raise the issue of controversial US drone attacks in the country's tribal regions.
Kerry will later meet Prime Minister Sharif, and both sides are expected to discuss resumption of strategic dialogue as well as cooperation in diverse fields including energy.
The strategic dialogue between the two countries suspended after NATO fighter jets bombed a Pakistani post which killed 24 soldiers in November 2011. The last round of talks was held in October 2010 in Washington.
US officials in Washington were quoted as saying that the secretary of state will reinforce Washington's continuing commitment to Pakistan during his visit.
Sharif Wednesday discussed with top officials the agenda for talks with Kerry, officials said.
The prime minister's office said a meeting of all relevant stakeholders was called to discuss important regional developments including those relating to Afghanistan.
The secretary of state was previously expected to arrive in Pakistan July 29. The trip was postponed due to his engagement with the Syrian and Middle East issues and the illness of his wife.