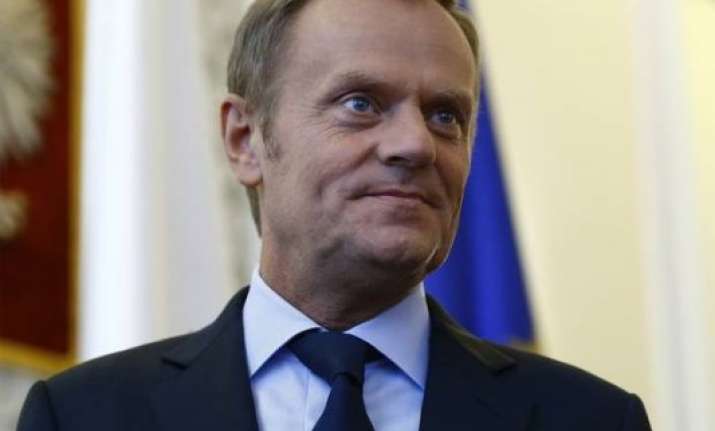 Brussels: The European Union (EU) leaders on Saturday elected Polish Prime Minister Donald Tusk as president and Italian Foreign Minister Federica Mogherini as the foreign policy chief of the European Council.
Donald Tusk, the center-right Polish Prime Minister will be the second president of the European council, xinhua reported citing a statement.
The council president is the person who chairs EU leaders summits and mediates between the 28 governments.
According to the Treaty on European Union (TEU), the European Council shall elect its president by a qualified majority for a period of two and a half years, renewable once.
"The President of the council is elected for the period from Dec 1, 2014 until May 31, 2017," the statement said.
Meanwhile, Tusk was also appointed president of the Euro Summit, for the same period.
Herman Van Rompuy, the current holder of the position, praised Tusk as "a statesman for Europe" at a press conference after the election.
"He has impressed his colleagues and the outside world with the determined and confident way he has led his country and steered Poland through the economic crisis," Van Rompuy said.
He said there are three challenges that the EU will be facing in the years ahead -- the stagnating economy, Ukraine and Russia, and Britain's place in the Union.
As a balance of gender and political powers on the distribution of top posts, Italian Foreign Minister Federica Mogherini, the center-left foreign minister was appointed as the EU's High Representative for Foreign Affairs and Security Policy, replacing Britain's Catherine Ashton.
The 41-year-old foreign minister has been said to be too "soft" on Russian stance and too "inexperienced" for the job, as she was only appointed foreign minister in February.
But, given that the new EU commission chief is center-right Jean-Claude Juncker, one of the other two top EU posts should go to a Social Democrat and a woman, according to analysts.
Van Rompuy's current mandate as European Council president will expire Dec 1, 2014, and Catherine Ashton will step down when the current Commission's term ends Oct 31, 2014.