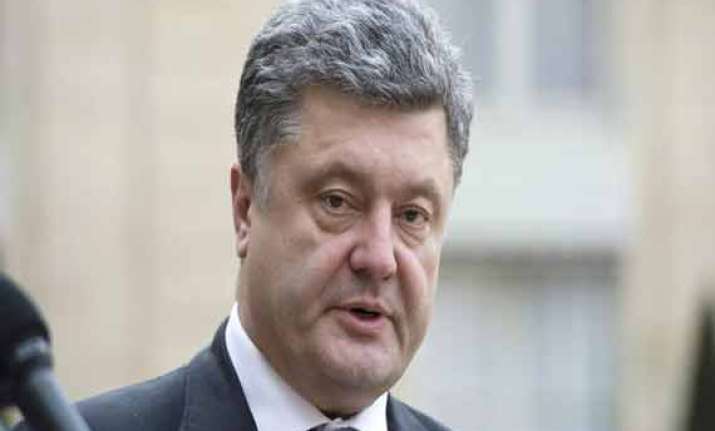 Kiev: Ukrainian President Petro Poroshenko and visiting German Chancellor Angela Merkel Saturday called for a peaceful resolution of the Ukraine crisis, the presidential press service said.
At a joint press briefing following their talks here, the two sides called for a peaceful solution to the ongoing Ukraine crisis amid violent confrontations between government forces and independence-seeking insurgents in eastern Ukraine, Xinhua quoted an official statement as saying.
Admitting that Ukraine is going through "an extremely tragic" period of its history, Poroshenko expressed appreciation for Germany's support to help Ukraine move towards peace.
"We appreciate Germany and the European Union (EU) for their support and we are grateful to Federal Chancellor Angela Merkel for her continued assistance."
"I assure you that Ukraine is ready and able to ensure the peaceful settlement of the conflict," he added.
For her part, Merkel stressed the need to ease the current tension through political dialogue. "I am fully convinced that the problem must be solved through negotiations and diplomatic solution should be found."
Earlier in the day, as Merkel arrived in the Ukrainian capital Saturday, about 100 lorries from an unauthorised Russian aid convoy crossed back over the border from eastern Ukraine.
The convoy was returning from Luhansk city, held by pro-Russian separatists who have been fighting Ukrainian government forces.
The White House Friday warned Russia that sending an aid convoy into eastern Ukraine without Kiev's approval would incur "additional consequences".
The EU has also deplored as illegal the Russian decision to send humanitarian aid into Ukrainian territory without an International Committee of the Red Cross(ICRC) escort or the Ukrainian government's consent.
Four months of fighting in the region has left over 2,000 people dead while more than 330,000 have fled their homes.