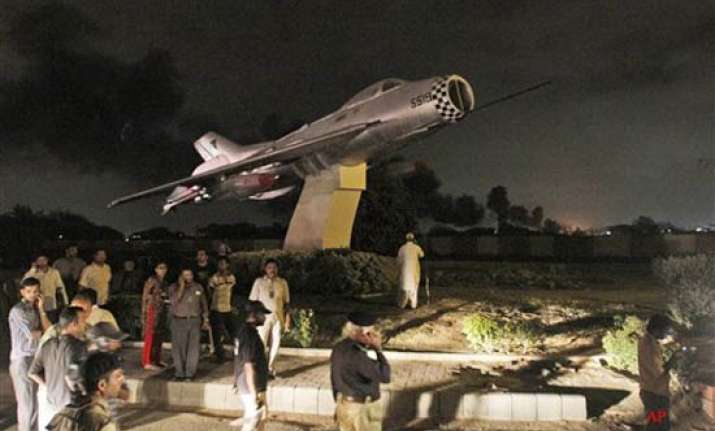 Lahore, May 23 : Of just the three P-3 series Orion anti-submarine and maritime surveillance aircraft that Pakistan had acquired from the United States in 1996, two have now been lost.
According to the website of the Pakistan Navy, one of these planes (bearing serial number 83) was lost due to an accident while carrying out routine exercises over the coastal waters of Pasni (Balochistan) on October 29, 1999.

This was one of the 46 Pakistani aircraft that had crashed between 1996 and 2000, and one of the 12 during the year 1999 alone.

After taking off from PNS Mehran Base, the P-3C Orion of the 28 Squadron was on an exercise with other ships and aircraft from Masroor Air Base in Karachi, when it had mysteriously crashed, killing 10 officers and 11 sailors on board.




The P-3C Orion plane set ablaze by terrorists in Karachi on Sunday night was also parked at the hangars of the PNS Mehran Base of the Pakistan Navy, which was commissioned on September 26, 1975 after the first of the six Westland Sea King helicopters was acquired from Britain on September 28, 1974.

The delivery of these P-3C Orion Maritime patrol aircraft had earlier been withheld due to the application of the Pressler Amendment in 1990. Costing US$36 million or over Rs3 billion, the gutted P-3C Orion plane at Karachi was one of the 757 such aircraft developed since November 1959.

Having a length of 35.57 metres, a wingspan of 30.36 metres and a height of 10.27 metres, this aircraft was recently used by the United States in the maritime surveillance mission in Libya.

This four-engine carrier is also used for anti-surface warfare and can operate at a top speed of 745 kilometres per hour. It is manufactured by Messrs Lockheed Martin of America and Messrs Kawasaki of Japan.

Terming the Taliban attack on the Mehran naval air base as a "big security lapse", Pakistani defence and political analysts today said that "insiders" were facilitating the militants in their deadly agenda and asked the government and military to wake up to this.

The daring attack by the armed militants, who used rockets, grenades and heavy ammunition, has raised serious doubt over the military's ability to protect its key installations.

"It is a worrying thing this attack and is nothing but a serious security lapse on part of the navy," Air Vice Marshal (retd) Shahzad Chaudhary, a defence analyst said.

He pointed out that the PNS Mehran was one of Pakistan's most important naval airbases with the latest equipment and aircrafts and for militants to attack it so easily and brazenly showed big loops in the security.

"Just last month two bomb attacks were carried out on Naval buses in the city in which innocent people were killed and the naval installations should have been on high alert," after that, he said.

Another defence analyst, Ikram Saigal noted that after the killing of al-Qaeda leader, Osama bin Laden on May 2 in Abbottabad by US forces, the Taliban had vowed to carry out revenge attacks.

"Despite that for this incident to take place is a clear failure of security and intelligence and the government needs to really look deep down to prevent such attacks again," he said.

As security forces continued to battle 15-20 Taliban militants who struck to take control of the base housing naval maritime reconissance aircraft and naval missiles, Nasim Zehra, a political and current affairs expert, said the attack only highlighted the need for the government and military to accept they were insiders who were facilitating the terrorists in their actions.

"It is not possible for these terrorists to have so much creditable information about the presence of the aircrafts on the base without inside help.

"The fact that these militants have managed to hold off the security forces for the last 13 hours shows they came well drilled and prepared for the operation," Zehra said.

She said that it was time for the nation and armed forces to recognize they were fighting against a well organised enemy which is clearly getting inside help.

"They are rogue elements apparently helping these militants."

Kamran Khan, a political analyst said the attack had shaken the confidence of the Pakistan people.

"It is time we stopped blaming others for our problems and seriously looked within our own to root out these terrorists.

"It is not possible that such an attack can be carried out with so much precision without help from insiders.

"We have to accept that Pakistan is now the hotbed of many Jihadi outfits and our intelligence and security agencies need to recognise this fact first," he said.

Some television channels also reported that the militants had taken hostages in their attack but Rehman Malik declined to confirm or deny this.

Malik said the clean-up operation was taking time because the security forces had to ensure the Naval installations were not further harmed and to capture as many attackers alive as possible.

The attack evoked memories of an assault on Pakistan's army headquarters in the city of Rawalpindi in 2009, and is a further embarrassment for the military, widely seen as the only properly functioning institution in Pakistan, in the wake of bin Laden's killing.

The military has come under intense pressure from the United States and its own people for failing to know that bin Laden had been living in a garrison town, north of the capital and near a top military academy, for years, and also for allowing five US helicopters to penetrate Pakistan's airspace and kill him.

As expected, the Prime Minister, Yousuf Raza Gilani condemned the attack and said he had spoken to the heads of the armed forces and told them to take decisive action against the terrorists who were enemies of the country.

"Such a cowardly act of terror could not deter the commitment of the government and people of Pakistan to fight terrorism," Gilani said in statement.

Admiral Noman Bashir, the head of Pakistan Navy said, it was too early to say whether it was a security lapse but the first priority now was to protect the installations and end the operation successfully.

The Taliban have stepped up attacks since bin Laden's death, killing almost 80 people in a suicide bombing on a paramilitary academy and an assault on a US consular vehicle in Peshawar. PTI