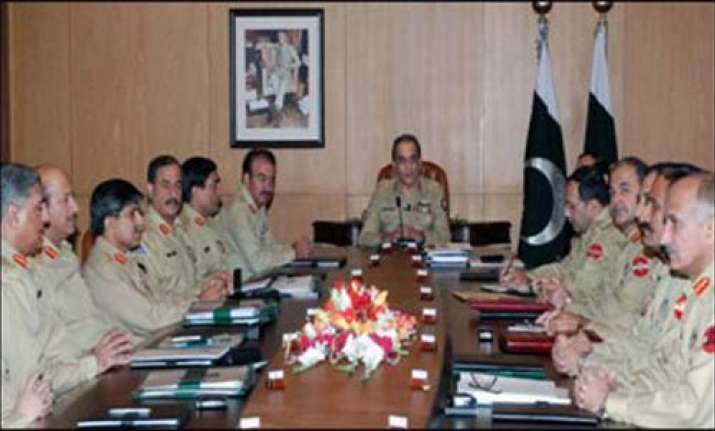 Washington, May 28: Pakistani military generals are concerned that their ranks have been penetrated by Islamists who are aiding militants in a campaign against the state.

Even the powerful army chief Gen Ashfaq Parvez Kayani was so shaken by the discovery that terror mastermind Osama bin Laden was sheltering so close to the Pakistani capital that he told US officials in a recent meeting that his first priority was "bringing our house in order", the Washington Post reported today quoting senior Pakistani intelligence officers.

"We are under attack, and the attackers are getting highly confidential information about their targets," said the official, who cited a personal conversation with Kayani. US and Western nations have long accused Pakistan's military Inter-services Intelligence (ISI) of playing a double game by fighting militants who are threatening the country, but protecting those fighting US forces in Afghanistan and destabilising neighbouring countries.
Pakistan's top military brass claimed to have purged the ranks of Islamists shortly after the September 11, 2001, attacks. Since then, the nation's top officials have made repeated public assurances that the armed forces are committed to the fight against extremists and that Pakistan's extensive nuclear arsenal is in safe hands.
But US officials have remained unconvinced, and they have repeatedly pressed for a more rigorous campaign by Pakistan to remove elements of the military and intelligence services that are believed to cooperate with militant groups. It is unclear how authentically committed Kayani and other top military leaders are to cleansing their ranks. US officials and Pakistani analysts say support by the nation's top military spy agency for insurgent groups, particularly those that attack in India and Afghanistan, is de facto security policy in Pakistan, not a matter of a few rogue elements.

But Kayani now, the Washington Post quoted officials as saying, is under profound pressure, both from a domestic population fed up with the constant insurgent attacks and from critics in the US government, who view the bin Laden hideout as the strongest evidence yet that Pakistan is playing a double game.



US officials say they have no evidence that top Pakistani military or civilian leaders knew about bin Laden's redoubt, though they are still examining intelligence gathered during the raid.

Some say they doubt Kayani or Lt Gen Ahmed Shuja Pasha, head of the ISI, had direct knowledge; others find it hard to believe they did not, particularly because Kayani was head of the ISI in 2005, when bin Laden is believed to have taken refuge in Abbottabad."I think he was in protective custody," one former US official who worked closely on Pakistan issues said of bin Laden.

Pakistan strenuously denies that. But military officials acknowledge that members of the services have cooperated with militants. PTI