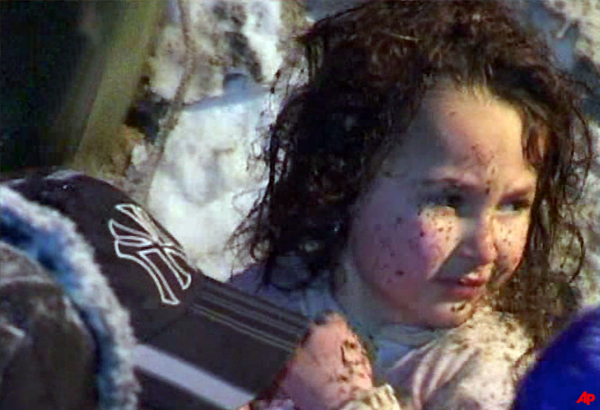 Restelica, Kosovo, Feb 13: Rescuers have pulled a 5-year-old girl alive from the rubble of a house flattened by a massive avalanche that killed both her parents and at least seven of her relatives in a remote mountain village in southern Kosovo.

A spokesman for the Kosovo Security Force, said on Sunday that the girl was discovered when officers heard her voice and the ringing of  a cell phone.

Her home was buried under 10 metres (33 feet) of snow.

Rescuers cheered in delight and pumped their fists in the air late Saturday night as the girl was pulled out alive.

A video aired on Klan Kosova TV showed rescuers from the Kosovo Security Force and villagers covering the girl with blankets before rushing her from the remote village to the hospital.

Osman Qerreti, an emergency official at the site, told The Associated Press that at least nine people died in the avalanche that hit the village of Restelica near Kosovo's border with Macedonia and Albania on Saturday, destroying seven houses of which only two were inhabited.

"Now we are looking for the last remaining body," said Qerreti as rescue teams dug on beside him in Sunday's sub-zero temperatures.

The girl, identified as Asmira Reka, was recovering in hospital in the nearby town of Prizren. Doctors said her life was not in danger, but she had lost both her father and mother in the avalanche, and had been buried for more than 10 hours.

NATO peacekeepers, deployed in Kosovo to end the armed conflict between Serbs and Kosovo Albanians in 1999, had been called in to help local authorities in the rescue operation, but they were unable to land a helicopter in the fierce blizzard.

Rescuers initially dug out the bodies of a married couple and their 17-year-old son. Six more bodies were discovered during the overnight and Sunday excavation.

The cold snap in Europe, which began in late January, has killed hundreds of people - most of them homeless.

Heavy snow has been blanketing the Balkans for more than two weeks, with Restelica and roads in the region cut off for several days.