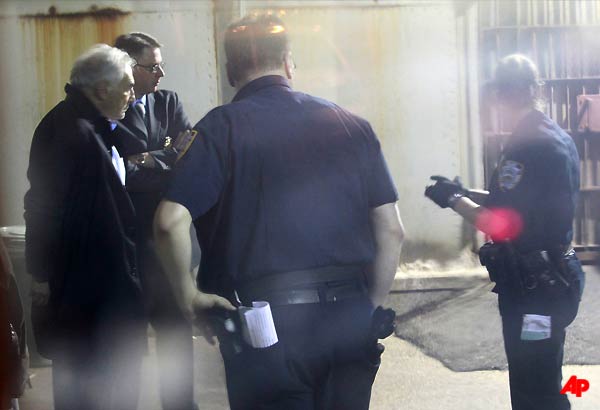 New York, May 16:  Disgraced IMF chief  Dominique Strauss-Kahn, who allegedly sodomized a Manhattan hotel maid proved the height of pompous arrogance  on Sunday, throwing a fit over a battle on his bail, which left him parked on a wooden bench in an East Harlem station house the whole day, sources told The New York Post. 
Leading French presidential contender and accused sex attacker Dominique Strauss-Kahn, 62, was finally led out of the NYPD's Special Victims Unit at around 11 p.m. in handcuffs, scowling and red-faced.
Sporting a long navy-blue coat and an open collar, he refused to acknowledge reporters as he was placed in the back of a police car and whisked off to Kings County Hospital in Brooklyn.
Sources said he was taken out of the police station house only after finally agreeing to a medical exam — and only after cops had moved to obtain a warrant to gather potential DNA evidence.
Clues they're looking for include possible DNA from his alleged victim that might be found in scratches on his body.
He had been set for arraignment Sunday night, but one of his lawyers, Bill Taylor, at a hastily called press conference outside Manhattan Criminal Court, said:
"Our client willingly consented to a scientific and forensic examination ... at the request of the government. It's being done. In light of the hour, we've agreed to postpone the arraignment until [this morning], and we expect to be in court with him."
Asked how Strauss-Kahn was doing, Taylor replied, "He's tired, but he's fine."
Strauss-Kahn, 63, is accused of sexually assaulting and attempting to rape a maid at the Sofitel hotel near Times Square Saturday afternoon as she tried to clean his room.
Another one of his high-powered lawyers, Ben Brafman, said Strauss-Kahn "intends to vigorously defend these charges, and he denies any wrongdoing."