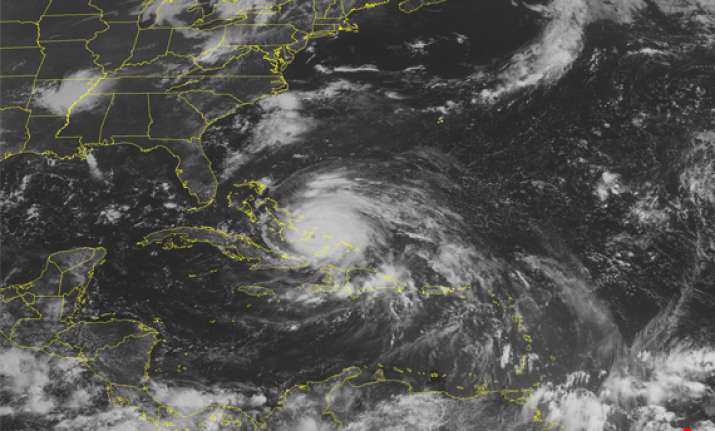 Freeport, Bahamas, August 25:   Hurricane Irene pounded the Bahamas on Wednesday with winds of 120 miles (195 kilometers) an hour and churned up heavy seas as it barreled along a path towards the populous US east coast.

The storm became a major category three hurricane, fueled by warm waters in the Atlantic, and spread over a wide area as it swirled over the sprawling archipelago of the Bahamas, picking up intensity.

US satellite images showed Irene churned past the Dominican Republic and meteorologists said its tropical force winds extended out some 230 miles (370 kilometers).

The US National Hurricane Center in Miami said Irene, the first hurricane of the Atlantic storm season, was expected to become a category four storm with winds of 135 miles (217 kilometers) per hour.

It said the eye of the "dangerous" storm was moving between Rum Cay and Long Island in the Bahamas, in an update at 0001 GMT (Thursday).

"My husband already started getting the shutters together, and we're also packing to get out," said Edna Smith, whose house in Holmes Rock, Grand Bahama, was flooded in the last hurricanes in 2004 and 2005. "We're not staying there. We're probably going to a shelter."

Deborah Rolle rushed to load groceries in the back of her car in Freeport after making last-minute purchases.

"I'm trying to get a jump-start on things, getting everything prepared," she said.

The path of the storm raised concerns along the US east coast, and US officials were closely watching for shifts in its track.

US forecasters said they expected the eye to come close to Cape Hatteras, North Carolina early Saturday, then continue north over water toward the eastern edge of New York's Long Island on Sunday.

Authorities began evacuating tourists from the North Carolina's popular Outer Banks beach resort on early Wednesday and have ordered a mandatory evacuation of the Ocracoke and Hatteras barrier islands.