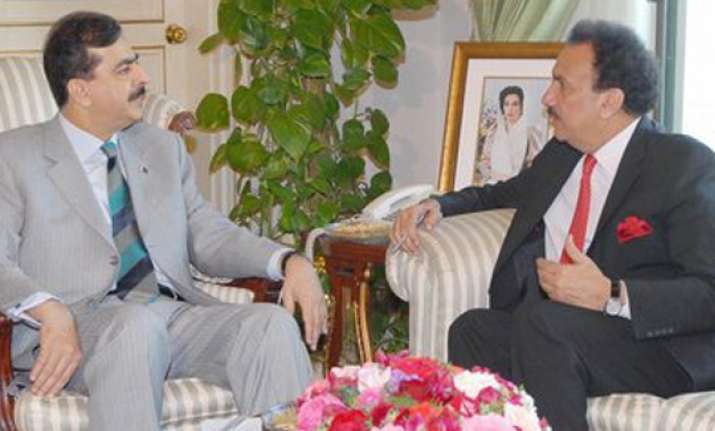 Islamabad, Jun 6: A day after Pakistan's Supreme Court suspended Rehman Malik's membership of parliament on the grounds of dual nationality, Prime Minister Yousuf Raza Gilani on Tuesday directed authorities to appoint him an advisor to the premier so that he could continue heading the Interior Ministry.
Gilani instructed the Cabinet Division to appoint Malik as an advisor to the Prime Minister on Interior Affairs.  
The Cabinet Division's notification stated that Malik had held the post of advisor in 2008 before he was elected to the Senate or upper house of parliament the following year.  
A Supreme Court bench led by Chief Justice Iftikhar Chaudhry yesterday issued an interim order that suspended Malik's membership of the Senate.
The bench passed the order after he was unable to produce a declaration issued by the UK Border Agency regarding the renunciation of his British citizenship.  
The apex court asked Malik to prove by the next hearing on June 13 that he was not a British citizen when he contested polls to the Senate in 2009.
If he is unable to do so, the court will take further action against him, the order said.
Earlier in the day, Malik did not attend office and removed the national flag from his residence and official vehicle.
In a statement issued in the evening, Malik said he had always respected the judiciary and obeyed its decisions.  He thanked the President, Prime Minister and the Pakistan People's Party for his appointment as an advisor on interior affairs.
"I will continue my struggle for elimination of terrorism and criminals and will fight on every forum for the welfare of the people," he said.
Though Malik has claimed that he did not visit UK Border Agency during a recent trip to London, Dawn News channel reported it had documents which showed that the UK agency had issued a letter on May 29 regarding Malik's renunciation of his British citizenship.
This revelation indicated that Malik had British citizenship when he contested the Senate polls in 2009.  Under existing rules, Malik would have been ineligible to contest the polls.
Officials said Malik will hold the post of advisor on interior affairs until the Supreme Court gives the final verdict in the case.
The apex court is currently hearing a case regarding the alleged dual nationality of over a dozen lawmakers.