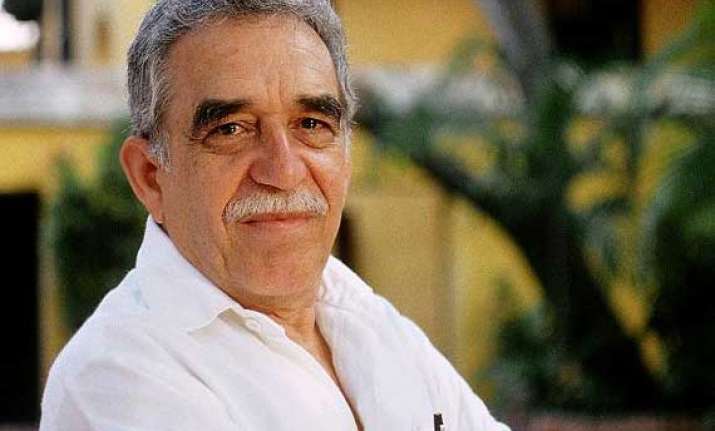 Mexico City: Nobel laureate Gabriel Garcia Marquez crafted intoxicating fiction from the fatalism, fantasy, cruelty and heroics of the world that set his mind churning as a child growing up on Colombia's Caribbean coast.
One of the most revered and influential writers of his generation, he brought Latin America's charm and maddening contradictions to life in the minds of millions and became the best-known practitioner of "magical realism," a blending of fantastic elements into portrayals of daily life that made the extraordinary seem almost routine.
In his works, clouds of yellow butterflies precede a forbidden lover's arrival. A heroic liberator of nations dies alone, destitute and far from home. "A Very Old Man With Enormous Wings," as one of his short stories is called, is spotted in a muddy courtyard.
Garcia Marquez's own epic story ended Thursday, at age 87, with his death at his home in southern Mexico City, according to two people close to the family who spoke on condition of anonymity out of respect for the family's privacy.
Known to millions simply as "Gabo," Garcia Marquez was widely seen as the Spanish language's most popular writer since Miguel de Cervantes in the 17th century. His extraordinary literary celebrity spawned comparisons with Mark Twain and Charles Dickens.
His flamboyant and melancholy works -- among them "Chronicle of a Death Foretold," `'Love in the Time of Cholera" and "Autumn of the Patriarch" -- outsold everything published in Spanish except the Bible. The epic 1967 novel "One Hundred Years of Solitude" sold more than 50 million copies in more than 25 languages.
"A thousand years of solitude and sadness because of the death of the greatest Colombian of all time!" Colombian President Juan Manuel Santos said on Twitter. "Such giants never die."
With writers including Norman Mailer and Tom Wolfe, Garcia Marquez was also an early practitioner of the literary nonfiction that would become known as New Journalism. He became an elder statesman of Latin American journalism, with magisterial works of narrative non-fiction that included the "Story of A Shipwrecked Sailor," the tale of a seaman lost on a life raft for 10 days. He was also a scion of the region's left.
Shorter pieces dealt with subjects including Venezuela's larger-than-life president, Hugo Chavez, while the book "News of a Kidnapping" vividly portrayed how cocaine traffickers led by Pablo Escobar had shred the social and moral fabric of his native Colombia, kidnapping members of its elite. In 1994, Garcia Marquez founded the Iberoamerican Foundation for New Journalism, which offers training and competitions to raise the standard of narrative and investigative journalism across Latin America.