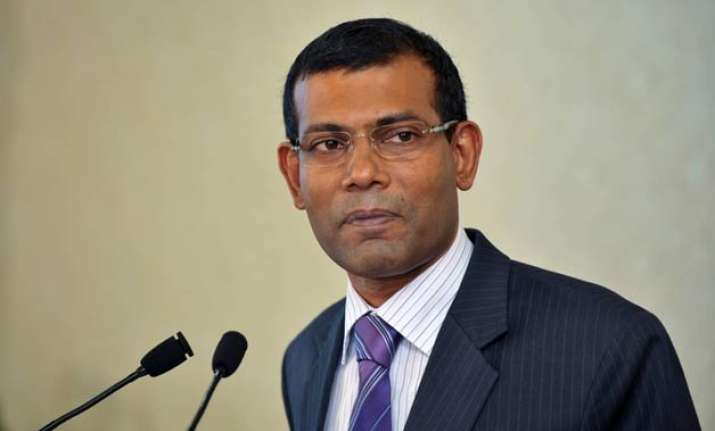 Male: Mohamed Nasheed, the former Maldivian president and opposition leader, was arrested today under anti-terrorism laws for allegedly ordering the arrest a senior judge in 2012 that triggered violence in the Indian Ocean island.
Nasheed, 47, was arrested around 2:45pm, his Maldivian Democratic Party (MDP) Chairperson Ali Waheed tweeted.  The country's first democratically elected leader was arrested on terrorism charges over the controversial detention of Criminal Court Judge Abdulla Mohamed in January 2012.
The arrest warrant issued by the Criminal Court states that the former president might abscond from the trial.  The first hearing of the case is scheduled for tomorrow.  Nasheed took refuge at the Indian High Commission in Male to avoid being arrested in connection with the same case in February 2013.
According to the office of the former president, Nasheed has been transferred to Dhoonidhoo prison. MDP Chairperson Ali Waheed has also been taken into police custody, Minivan News reported.
Nasheed became the country's first democratically elected leader in 2008.
He claims he was forced to quit in February 2012 after soldiers and police mutinied and overran his party's headquarters in the capital Male.
However his successor, Mohamed Waheed, who had been serving as vice-president, said that Nasheed left of his own accord following protests triggered by Nasheed's order to arrest the judge.
He lost the controversial November 2013 presidential election to Yameen, the half-brother of former strongman Maumoon Abdul Gayoom.
The MDP asked the Maldives Prosecutor General and President Yaameen Abdul Gayoom to immediately release Nasheed.  It said that Nasheed had never absconded from Court, nor have taken the opportunity to flee or go into hiding, during numerous opportunities he had in the past few weeks to travel abroad.
Nasheed had expressly informed the judiciary and Prosecutor General that he does not have any intention to abscond from Court or avoid charges being brought against him, it said.
The MDP said Nasheed was arrested on "previously unheard terrorism charges".
Clashes erupted between police and Nasheed's supporters soon after his arrest.