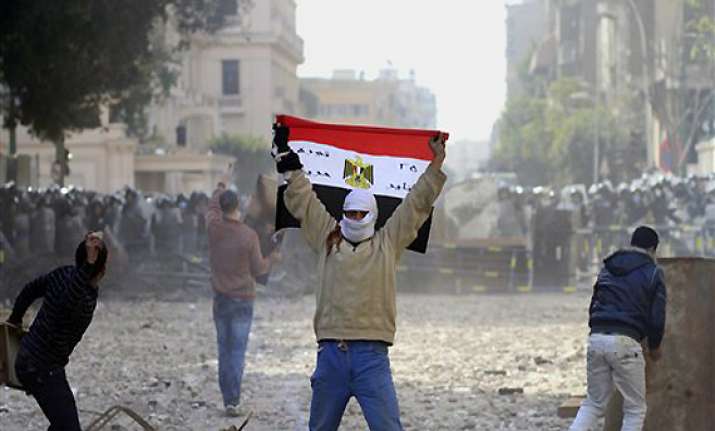 Cairo, Feb 3: Egyptian pro-democracy protesters today demanded the ouster of military rulers over the deaths of 74 football fans in the country's worst soccer violence, even as three people were killed and hundreds injured in fresh clashes with the police.

As the anger over the incident combined with frustration at the pace of reforms grew, protesters gathered on the streets of Egypt's capital Cairo, amid calls for more rallies over the deaths of 74 fans at a football match, on Wednesday.

The authorities have sealed off streets in the capital, and widespread protests are expected after Friday prayers. Hundreds were injured in clashes between security forces and protesters across the country yesterday.

The unrest has now spread across the country, and two people were shot dead in Suez as a crowd of hundreds attempted to overrun a police station, the BBC reported.

One person was killed in Cairo after a clash with the police, near the Interior Ministry as thousands gathered to demonstrate. Many

Egyptians blame the police for causing the football riot, in the northern city of Port Said. Most of the dead were believed to be supporters of Cairo's al-Ahly team, who were attacked after losing a match to Port Said side al-Masry.

A group of hard-core al-Ahly fans known as the "ultras" have accused the authorities of allowing the killings to happen.

They say the authorities wanted revenge because the "ultras" were among those battling the police during last year's revolution that ousted strongman ruler Hosni Mubarak.

Many are criticising the police for allowing weapons into the stadium, not doing more to intervene and not deploying in sufficient numbers.

In Cairo, protesters are planning several marches across the city. There will also be special funeral prayers at Tahrir Square for those who died at the football match.

State media reported that 388 protesters were injured. Some 54 police officers and soldiers were also reported injured.