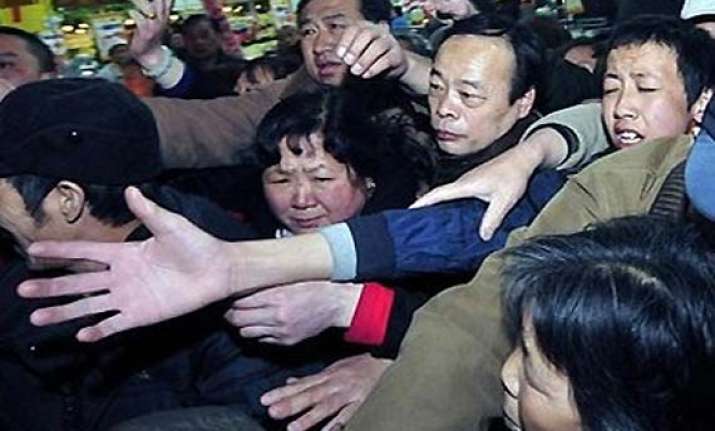 Beijing, Dec 12: Candles, matches and "Noah's Arks" have been selling like hot cakes in many places in China following online rumours of a coming event that some people believe will bring an end to the world.
Dec 21 marks the conclusion of a 5,125-year-long Mayan calendar, a point associated with the apocalypse.
Panic buying in Shuangliu and Longchang counties, both in Sichuan province, was stirred by rumours of "three consecutive days of darkness after Dec 21", Xinhua reported.
The rumours have been spreading via Sina Weibo, a popular microblogging site.
Businesses and online vendors have picked up on the rumours, offering packages of supplies, self-help manuals and even beauty products for the end times.
Yang Zongfu, from Yiwu in east China's Jiangsu province, sought to capitalise on the craze when he debuted his own version of "Noah's Ark".
Yang built a large stainless-steel ball intended to shelter survivors in the event of a world-ending event. It sells for five million yuan (up to $800,000). A man from Shanxi has purchased 15 such devices. The inventor has even received orders from New Zealand.
A woman recently mortgaged her property, and said she would donate the money to orphans and enjoy her life before doomsday.
Many have rushed to get married before the end of the world. Marriage registry offices in Xi'an, Hefei, Guangzhou and Shanghai have their daily quota full for marriage registrations for Dec 21.
"The rumours are a misinterpretation of the Mayan calendar and are still going on," said Ouyang Ziyuan, chief scientist for China's lunar orbiter project. Dec 21 will be a peaceful and safe day, he said.
Wang Sichao, an astronomer at the Nanjing Purple Mountain Observatory, said that when the sun transforms from its current stable state into a red giant, its expansion will devour Earth, signaling the end of the human race and the very planet itself.
"However, that won't happen for another five billion years," he said.
Chinese Internet users are discussing their unfulfilled dreams and reflecting on the meaning of life. Most posts include an epitaph of oneself and a wish list.
The wishes range from making breakfast for parents to becoming Superman to save the world. But most are everyday things to do with family and friends, and are full of love, faith and hope.
Several companies in Changsha, Wuhan, Chengdu and Nanjing are giving employers extra days off Dec 20 and 21.
Shanghai police have issued a public warning on Weibo.com after handling 25 cases relating to the apocalypse. The warning says: "The end of the world is pure rumour, do not believe it."