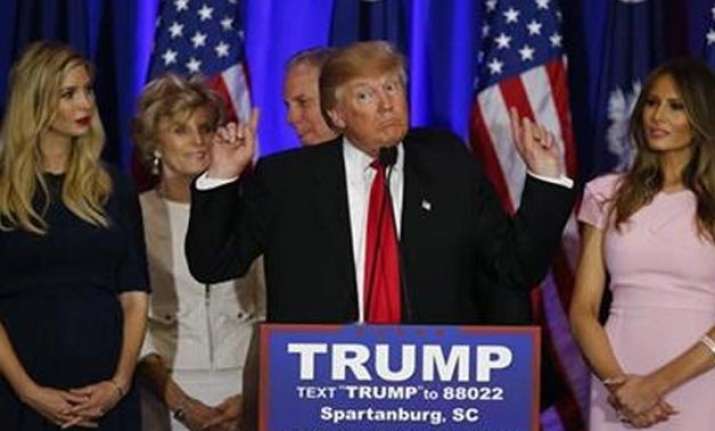 Washington: With three straight victories in nomination contests, Republican presidential frontrunner Donald Trump is looking ahead with confidence at March 1 Super Tuesday primaries in 12 states as rivals trained their guns on him.
As Republican nomination appeared within reach, the real estate mogul joined issue with 2012 Republican presidential candidate Mitt Romney over his tax returns and indicated that an insider would probably be his vice presidential pick.
"I do want somebody that's political, because I want to get lots of great legislation we all want passed," Trump said Wednesday. "We're going to probably choose somebody that's somewhat political."
Trump declined to name any names, saying it's "too early," although he did say some of the other Republican presidential candidates might make the short list.
Trump said the "main quality" he would seek in a running mate would be someone who could be a "great president" if something were to happen to require that person to step in - but after that, it's about balancing his political outsider status.
Calling Romney whom he had endorsed in the 2012 "yesterday's news", Trump rejected the Republican leader's suggestion that his tax returns could contain a "bombshell".
"There is no bombshell at all other than I pay a lot of tax and the government wastes the money," he told CNN Wednesday just hours after Romney's surprise comment.
Trump said he will "make a determination over the next couple of months" as to whether he will release his tax returns.
"Romney's biting attack hinted at clear signs of alarm in the Republican establishment at the billionaire's tightening grip on the party's presidential race," CNN said.
Trump also attacked his two main rivals, Senators Ted Cruz of Texas and Marco Rubio of Florida, saying he will "pick up a lot" of the support his current rivals enjoy as the field narrows.
Trump called Cruz a "nervous wreck" and accused him of "changing his stance" on immigration to better compete with him. The billionaire, however, held his fire against Rubio for now.
Meanwhile, Trump Wednesday picked up his first congressional endorsement from fellow New Yorker House member Chris Collins.
"We need a chief executive, not a chief politician," Collins, who was first elected to the House of Representatives in 2012 told CNN.