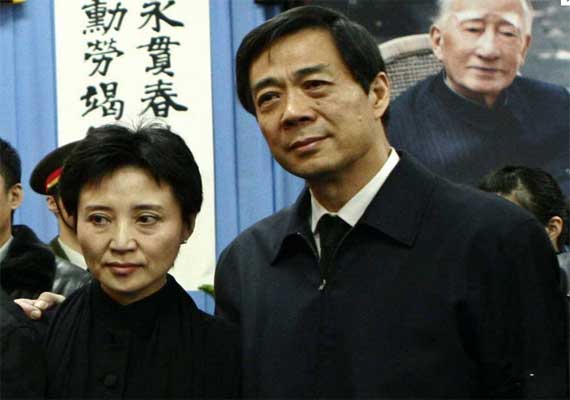 Beijing, Aug 20 :  Disgraced Chinese politician BoXilai's wife Gu Kailai, who confessed to murdering a British businessman, was today handed down a suspended death sentence by a Hefei court in a high-profile case that triggered a major political scandal in ruling CPC and cost her husband his job.
Intermediate People's Court in Hefei city, which conducted a day-long trial on August 9, sentenced 54-year-old Gu to death with a two-year reprieve for intentional homicide, state-run Xinhua news agency reported.
According to legal analysts here, the suspended death sentence could be converted to life imprisonment after two years by court, depending on the conduct of the convicted person.
Gu's orderly Zhang Xiaojun, who admitted to assisting her in administering cyanide to 41-year-old British businessman Neil Heywood in November last year, was sentenced to nine years in prison.
Regarded as one of the most politically significant murder trials in China in recent times, Gu's conviction sealed the political career of her 63-year-old husband Bo, who was a powerful leader of the CPC before the case came to light.
He has already been sacked from all the posts he held in the CPC, including that of the Chief of Chongquing city, and faced disciplinary investigations by the party, pending trial for attempting to cover up Gu's role in the murder of their family friend Heywood.
Until Heywood's murder came to light, Bo, considered a hard-line Maoist leader, was the front-runner for one of the top posts of the ruling Communist Party of China, which is gearing up for the leadership change this year.
President Hu Jintao and other top leaders of the party are poised to retire this year after a decade long-stint in power.
The 18th Party Congress which would select the new leaders is set to meet in November.
Already, the party has elected 2,700 delegates to attend the Congress.
Though the murder took place in Chongqing, the trial was held at Hefei, which is about 1200 km far away, apparently to avoid any backlash from Bo's supporters.
Two British diplomats were allowed to attend the trial but it was kept out of bounds for the foreign media, though a court spokesman briefed the journalists outside the court.
In a statement, British embassy said "we welcome the fact that the Chinese authorities have investigated the death of Neil Heywood, and tried those they identified as responsible."
"We consistently made clear to the Chinese authorities that we wanted to see the trials in this case conform to international human rights standards and for the death penalty not to be applied," according to a report on BBC.
A lawyer for the Heywood family said they respected the court's decision.
Earlier, the UK government denied speculation that Heywood was a British spy.
But his prolonged stay in China and his close proximity with top Chinese leaders had sparked off speculation about his activities in China.
Married to a Chinese woman, Heywood was stated to be a businessman with high-profile links.
Gu was convicted of poisoning Heywood, a business associate, in November last year at Chongqing city after falling out over a business deal.
Besides confessions by Gu and Zhang, her case's fate was sealed by admission of cover up by four top police officials of Chongqing, which was till early this year governed by Bo.
The same court tried the four police officials and is expected to announce sentences for them as well.
Though Gu admitted to her complicity in the murder, she defended her action saying that she resorted to killing Heywood after he "threatened" the security of her son Bo Guagua, who at that time studied in London. Bo Guagua is now studying in the US.