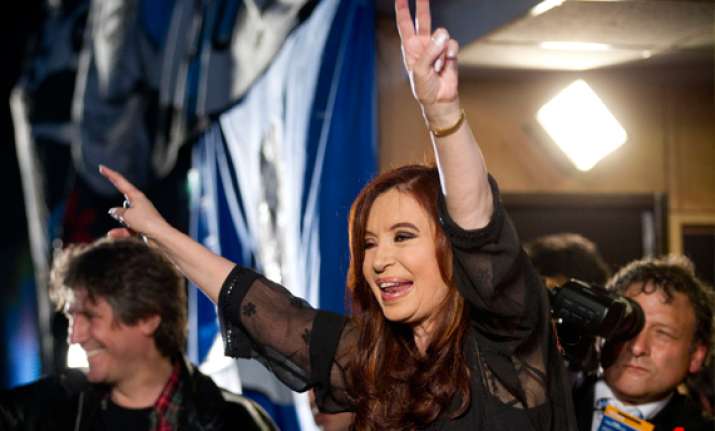 Buenos Aires, Oct 24: Argentinian President Cristina Fernandez has been re-elected with one of the widest victory margins in the country's history by persuading voters that she alone, even without her late powerbroker husband, is best able to keep spreading the wealth of an economic boom.

Argentines took to the streets of Buenos Aires, waving flags and honking car horns in celebration.

Fernandez had nearly 54 percent of the votes cast in Sunday's election, with nearly 97 percent of polling stations reporting nationwide.

Her nearest challenger got just under 17 percent.

At a gathering of supporters in the Plaza de Mayo people danced and cheered for their re-elected president as she took centre stage.

Before addressing the crowd Fernandez proudly held aloft a photograph of her with her husband and predecessor, Nestor Kirchner, who died of a heart attack last October.

In brief remarks to the thousands in the square, Kirchner called for unity.

"We have been facing challenges us Argentines, we have been divided, so that is why I ask you all, let's begin the learning process so that we don't get divided or separated, that we fight for the unity of all Argentines because at our side is the flag of our country, of our patrimony is at our backs and fundamentally the convictions of our people have now decided to be the protagonists in our history."

Fernandez is Latin America's first woman to be re-elected as president, but the victory was personally bittersweet as it is the first without her husband.
Many of her supporters cited economic indicators as reasons for voting for Fernandez.

Most voters polled beforehand said they wanted government stability to keep their financial situations improving in what has been one of Argentina's longest spells of economic growth.

Fernandez was on track to win a larger share of votes than any president since Argentina's democracy was restored in 1983, when Raul Alfonsin was elected with 52 percent.

Her margin over Hermes Binner and five other candidates was wider even than the 1973 victory margin of her strongman hero, Juan Domingo Peron.

Her political coalition also hoped to regain enough seats in Congress to form new alliances and regain the control it lost in 2009.