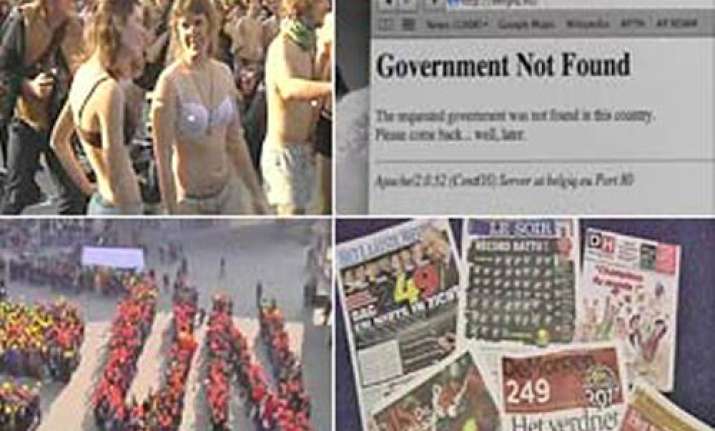 Louvain-la-Neuve/Ghent, Belgium Feb 18:  What would be a humiliation for many turned into a party for Belgium on Thursday as the country's citizens marked 249 days without a government, a figure that they are treating as a world record in political indecision. A bunch of youngsters took off their clothes to mark their protest.
249 people were expected to strip down to their underwear to mark the record but only two dozen carried out the act.
"I think that it is time we the people of Belgium show the politicians and everybody that we are fed up. They have to do something and we are standing here in our underwear to show them that it is time for action. No talking. Action," said Frea van Craeynest, one of the girl students who stripped to mark her protest.
On every other day, the crisis pits the leaders of 6 million Dutch-speakers against those of 4.5 million French speakers, but people from across the country put aside their differences to celebrate the occasion.
"We know that it's very difficult to make a government and there are a lot of problems in Belgium," said Jean-Gabriel Vermeire, one of the organisers of the event adding "but you don't have to say that the economic problems of Belgium is our fault, the fault of the citizens because they don't live with each other, it's not true."
Participants could also be seen indulging in what some are calling the "Fries Revolution".Fries, like the king and the under-performing national football team, are one of the few symbols that still unite Belgians.A long line of students could be seen eating a free portion of Belgium's beloved national dish, in a show of gastronomic unity.It is arguable whether 249 really is the world record.
Iraq took 249 days to get the outlines of a government agreement last year, but the approval of that government took a further 40 days.Still, the way things are going, Belgium will have little problem claiming the record whichever standard is used.
After general elections on June 13 last year, Belgium's major parties began talks to force through the biggest constitutional reform in decades to keep both linguistic groups happy. But since their interests are often diametrically opposed, they ran into one deadlock after another.
King Albert had to appoint and accept the resignation of one go-between after another as the major parties refused to move far from their pre-election position.
It is a process which continues to this day.
The chances of success for the current negotiator, caretaker Finance Minister Didier Reynders, are seen as slim and new elections to break the deadlock seem to be the only probable solution is sight.
At the heart of the political deadlock is an attempt to broker a new constitution with increased regional autonomy to reflect that the two language communities have increasingly grown apart.
Richer Flanders wants as much autonomy as possible, while the poorer Francophone region wants to hold on to a much larger sense of national unity which also guarantees more financial solidarity.AP