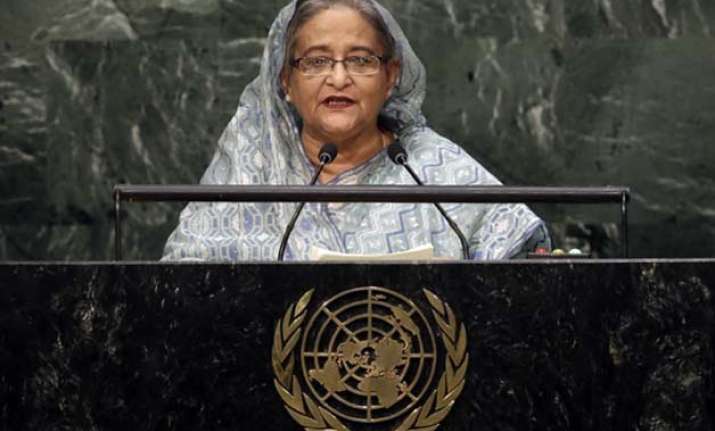 United Nations: Bangladesh and India have set a unique precedent for the rest of the world by exchanging over 100 enclaves providing thousands of "stateless" residents their much cherished citizenship, Bangladeshi Prime Minister Sheikh Hasina has said.
In her address to the 70th session of the General Assembly yesterday, the 68-year-old said her country recently settled the maritime and the land boundary agreement (LBA) and related issues with its neighbours like India.
"We exchanged 162 enclaves whereby more than 50,000 'stateless' enclave residents have got their much cherished citizenship," she said, adding that by doing so with India, a unique precedent has been set for the rest of the world.
On August 1 at the stroke of the midnight, Bangladesh and India exchanged the adversely-held enclaves, ending one of the world's most complex border disputes that had lingered since seven decades.
She urged other nations to renew the collective resolve to free the world from oppression and injustice. She noted that the new 2030 Sustainable Development Agenda, adopted by the Member States of the UN last Friday, makes it clear that all actions need to be underpinned by the strong commitment to protect and preserve the planet and biodiversity.
"Bangladesh has taken lead in building regional cooperation processes," she explained.
"We have also taken initiatives to develop infrastructures to enhance trade and people-to-people contacts among Bangladesh, Bhutan, India and Nepal." She said terrorism and violent extremism, and climate change are the two global challenges that pose the greatest threat to the sustainability of humankind. "I am myself a victim of terrorism and violent extremism," she said, recalling that in August 1975, her father, mother, three brothers and other close relatives were brutally assassinated.
"I was subject to terrorist attacks 19 times. My government, therefore, maintains a 'zero-tolerance' policy to all forms of terrorism, violent extremism, and radicalisation," she added. Hasina stressed that her country is steadfast in tackling the extremists and anti-liberation forces who "continue to remain active in destroying the democratic, progressive and secular ethos" of Bangladesh.
She further highlighted that Bangladesh is proud to be associated with UN peacekeeping and peacebuilding as a "leading troop contributor", with its presence in 54 peacekeeping missions in 40 countries so far, and with the highest number of female police in UN peacekeeping missions.