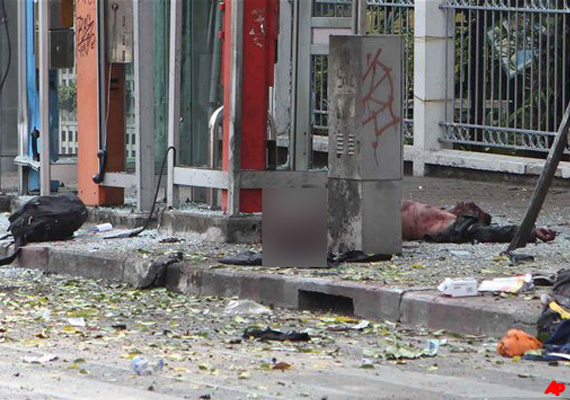 Bangkok, Feb 15: Two Iranians  have been detained for the  three bizarre blasts in Bangkok, one in a rented accomaodationa and other  two on streets.
 
Police are hunting for another man who was part of Iranian trio in Bngkok.
 
An Iranian man carrying grenades blew off his own legs and wounded four civilians Tuesday after an earlier blast shook his house in Bangkok.
 
 The explosions came a day after an Israeli diplomatic car was bombed in India ,an attack Israel blamed on Iran.

                

 
Bangkok police is huting for the third Iranian amid mounting fears of more suck sticky bomb attacks to target Israeli diplomatic cars.
 
One of the Iranians, Saed Moradi,  was held after being injured when an explosive he threw in an attempt to escape ended up blowing off his legs.
 
 Another, Mohummad Hazaei, was held at Bangkok airport. All three were staying in a rented house where stored explosives went off on Tuesday.

The involvement of the Iranians in a likely bid to carry out terror attacks in Bangkok saw the plot being linked to the spreading Iran-Israel proxy war and attempts of  Iran, or Lebanon-based Hezbollah  it backs to hit Israeli targets as revenge for the killing of its leader Imad Mughniyeh.



 
Thai police had foiled a planned attack on an Israeli target also in January by arresting an Iranian national.

Neither Thai or Indian investigators confirmed a link between the incident in Bangkok on Tuesday and the bombing in New Delhi or the thwarted one in Georgia the day before.
 
But the incidents ratcheted tensions between Iran and  Israel  at a time when Iran's nuclear programme has led to a spike in Israeli-Iranian tensions.
 
Israel alleges the attacks herald a fresh wave of assaults worldwide by Iran.
 
Defence minister Ehud Barak said the violence in Bangkok "proves once again that Iran and its proxies continue to perpetrate terror" . Iran, however, strongly denied involvement in any of the blasts.




The blasts in Bangkok appear to have begun when a stash of explosives detonated by accident in a Bangkok house occupied by the three Iranians.
 
The explosion blew off part of the roof, and two of the men quickly left the house.
 
A third man identified as Moradi was seriously wounded and left the residence shortly afterwards, said police chief Gen Pansiri Prapawat.
 
"He tried to wave down a taxi, but he was covered in blood, and the driver refused to take him," Pansiri said.
 
 He then threw an explosive that hit the taxi and damaged it and began running.
 
Police who had been called to the area after the first blast then tried to apprehend Moradi , who hurled a grenade at them to defend himself.

"But somehow it bounced back and blew off his legs," Pansiri said. An Iranian passport was recovered which identified Moradi.