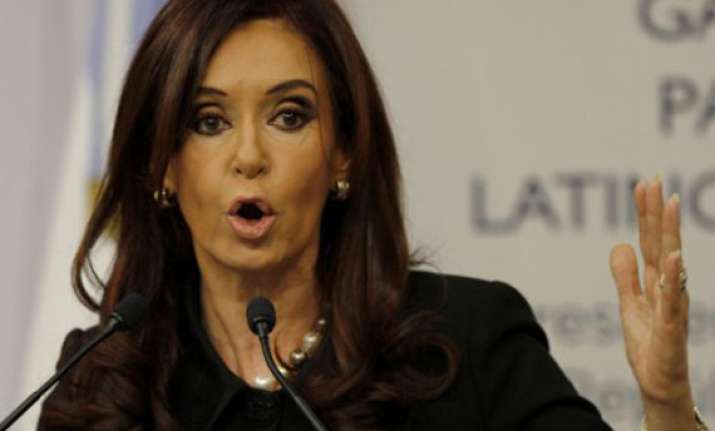 Pilar, Argentina, Jan 5 :  Argentina's President Cristina Kirchner underwent surgery for thyroid cancer Wednesday morning, with her doctors predicting a full recovery.

"The operation has begun," a government source who requested anonymity told AFP, saying the president entered the operating room just after 8:30 am (11:30 GMT).

The surgery was performed at Hospital Austral, a high-tech hospital 50 kilometers (30 miles) north of Buenos Aires.

Kirchner's cancer was discovered during a routine medical exam on December 22, only 12 days after she was re-inaugurated as Argentina's president. She won re-election in October in a landslide.

She is scheduled to be hospitalized for 72 hours with a 20-day recovery period, during which Vice President Amado Boudou is taking over Kirchner's executive branch responsibilities.

The president, 58, arrived at the hospital Wednesday morning via helicopter, with her children Max and Florence.

Kirchner, the country's first elected female president, was diagnosed with cancer "on the right lobe of the thyroid gland," her spokesman Alfredo Scoccimarro said last week. Doctors predicted she would be able to resume all of her duties as president.

"The prospects are excellent and one would not expect any further growth of the tumor after the operation," said Mario Bruno, an oncologist and a member of the Argentina Association of Cancer.

Hundreds of young people camped out in a two-day vigil on the hospital campus to show their support for Kirchner.

"Be Strong, Cristina," said some posters which supporters put up around the hospital campus, along with Argentine flags and banners showing the faces of Kirchner and her deceased husband, Nestor, who also served as president.

Dozens of television camera crews, reporters and photographers have stood guard at the hospital since Tuesday. Security was spread over a wide area around the hospital by members of the military police, Buenos Aires federal police and presidential security force.

Kirchner rested Tuesday at the official presidential residence in Olivos, where she had returned after spending Near Year's Day with their children and other relatives at her country home in the Patagonian town of El Calafate, where her husband died October 27, 2010.

Her counterparts among other Latin American leaders sent her messages wishing her a speedy recovery. Kirchner is one of several Latin American leaders to suffer from cancer since 2009.

Venezuelan President Hugo Chavez, Brazilian President Dilma Rousseff and Paraguayan President Fernando Lugo have all waged battles against the disease and say they are now cancer-free.