Zimbabwe's Army was on Tuesday seen roaming outside the capital in armoured vehicles and has also taken over country's national broadcaster, a day after army chief warned of a possible military intervention in politics.
Soldiers are reported to have taken over the headquarters of Zimbabwe's national broadcaster, ZBC. Some staff at ZBC were manhandled when soldiers took over their offices in Harare, reports citing sources said. Workers were told that they "should not worry", a source added, and that soldiers were only there to protect the site.
Associated Press cited Zimbabwe's army as saying that it has President Robert Mugabe and his wife in custody and is securing government offices and patrolling the capital's streets following a night of unrest that included a military takeover of the state broadcaster.
The night's action triggered speculation of a coup, but the military's supporters praised it as a "bloodless correction."
An Army spokesman said the move was 'not a military takeover' and assured that President Robert Mugabe was 'safe and sound'. He added that the army is targeting 'criminals around the President' and 'situation will return to normalcy' once the mission is accomplished.
In an address to the nation after taking control of the Zimbabwe Broadcasting Corporation, Major General Sibusiso Moyo said early Wednesday the military is targeting "criminals" around Mugabe, and sought to reassure the country that order will be restored.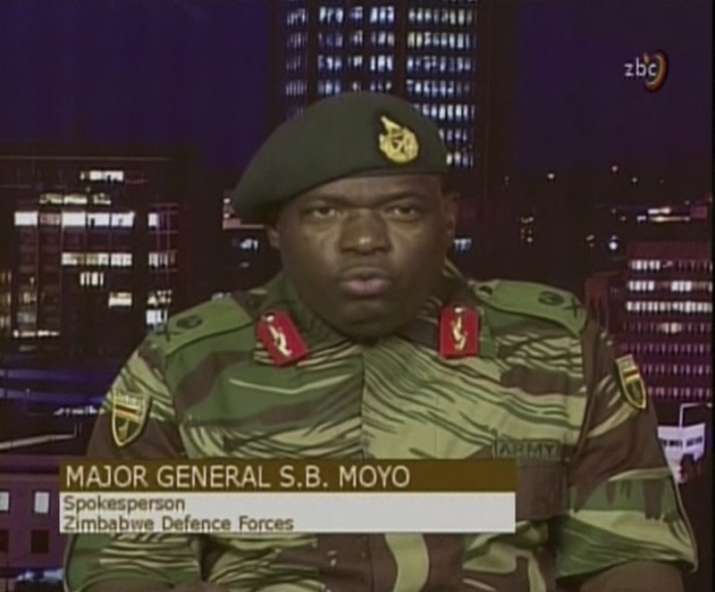 It was not clear where Mugabe, 93, and his wife were Wednesday but it seems they are in the custody of the military. "Their security is guaranteed," Moyo said.
"We wish to make it abundantly clear that this is not a military takeover," he said. "We are only targeting criminals around (Mugabe) who are committing crimes that are causing social and economic suffering in the country in order to bring them to justice."
Moyo added "as soon as we have accomplished our mission, we expect that the situation will return to normalcy." The army spokesman called on churches to pray for the nation. He urged other security forces to "cooperate for the good of our country," warning that "any provocation will be met with an appropriate response."
Explosions have also been reported in the capital Harare but the cause is unclear, BBC reported on Wednesday. At least three explosions have been heard early Wednesday, the Associated Press reported. 
The development comes a day after General Constantino Chiwenga had challenged Mugabe after he sacked the vice-president. Chiwenga said the army was prepared to act to end purges within Mugabe's Zanu-PF party.
Zimbabwe's ruling party accused the country's army chief of "treasonable conduct".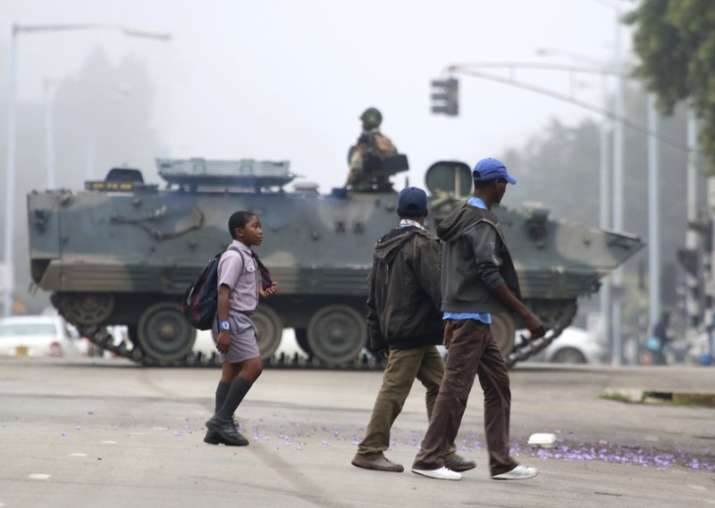 Tensions were raised further on Tuesday when Army tanks were seen taking up positions on roads outside Harare, although their purpose was unclear.
The AP reported that three tanks were seen with several soldiers in a convoy on a road heading toward an army barracks just outside the capital, Harare.
While it is routine for tanks to move along that route, the timing heightened unease in this southern African country that for the first time is seeing an open rift between the military and 93-year-old President Robert Mugabe. The military has been a key pillar of Mugabe's power since independence from white minority rule in 1980.
Mugabe last week fired Vice President Emmerson Mnangagwa and accused him of plotting to take power, including through witchcraft.
Mnangagwa, who enjoyed the backing of the military and was once seen as a potential successor to Mugabe, fled the country and said he and his family had been threatened. Over 100 senior officials allegedly supporting him have been listed for disciplinary measures by a faction associated with Mugabe's wife, Grace Mugabe.
The first lady, whose political profile has risen in the past few years, now appears positioned to replace Mnangagwa, leading many in Zimbabwe to suspect that she could succeed her husband as president.
On Monday, army commander Constantino Chiwenga issued an unprecedented statement saying purges against senior ruling Zanu-PF party officials linked to the 1970s liberation war should end "forthwith."
"We must remind those behind the current treacherous shenanigans that when it comes to matters of protecting our revolution, the military will not hesitate to step in," the army commander said.
Mugabe did not respond to the military statement, and government spokesperson Simon Khaya Moyo said only the president could respond. The state-run broadcaster did not report on the statement.
The ruling party's youth league, aligned to the first lady, on Tuesday criticised the army commander's statement, saying youth were "ready to die for Mugabe."
The army spokesperson was not immediately available for comment Tuesday. State broadcaster Zimbabwe Broadcasting Corporation was operating as usual.
Meanwhile, the US and the UK have told their citizens in Zimbabwe to stay indoors amid political turmoil and 'unusual military activity'. 
The British embassy in Zimbabwe warned UK citizens to stay indoors "until the situation becomes clearer.
The embassy on Twitter cited "the uncertain situation" and "reports of unusual military activity" in the capital, Harare.
The US Embassy, in a statement, has asked American citizens to "shelter in place" citing "the ongoing political uncertainty through the night." 
The embassy will be closed to the public on Wednesday.
(With agencies)