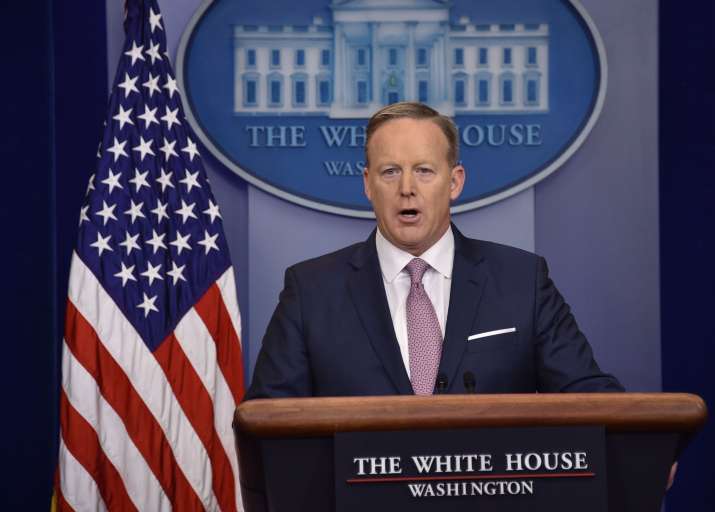 The White House today said that the United States was facing a real threat from radical Islamic terrorism and President Donald Trump will take all necessary steps to protect America and its people.

 

Talking to media persons, White House Press Secretary Sean Spicer further said that there is a need for the US to remain vigilant in the face of grave threats from outfits like the Islamic State (ISIS). 
"We face a very, very real threat in ISIS and radical Islamic terrorism. The reason that the President is taking the steps is because we must remain ever vigilant. We can't let our guard down. We have to be ahead of the curve,"  Sean Spicer said.
"We may not face an imminent threat today, we don't know when that next threat comes. Is it next week? Is it next month? Is it next year? But the President wants to get ahead of the curve and make sure we're not talking about what we should have done, but taking every step necessary to make sure that it doesn't happen," he said in response to a question.
Trump during his recent visit to the CENTCOM headquarters in Tampa received a full briefing of the threat that the US faces from around the world and their motives, Spicer said.
"That's something he weighs very heavily on his mind when he meets with these people, gets these briefing, meets with the green beret soldier, that he recognises that there are so many people out there putting their life on the line to protect this country and to make sure that we understand the threats and that it's his job and his obligation to do everything within his power to take that information and do what he can to protect the country," Spicer said.
However, the press secretary sidestepped a question on reported move of the Trump administration to designate Muslim Brotherhood of Egypt as a terrorist organisation.
"There's no one that can question the president's commitment to fully attacking and addressing the threat that we face by radical Islamic terrorists. He has made very clear during the campaign that the first step is understanding, knowing and proclaiming who the enemy is, and he's going to do whatever it takes," he said.
"That being said, I'm not gonna get ahead of any announcements that we may or may not have coming in the future. But make no mistake, the President understands the threat that our nation faces and he is doing everything he can to attack it, root it out and destroy it," he added.
(With PTI inputs)