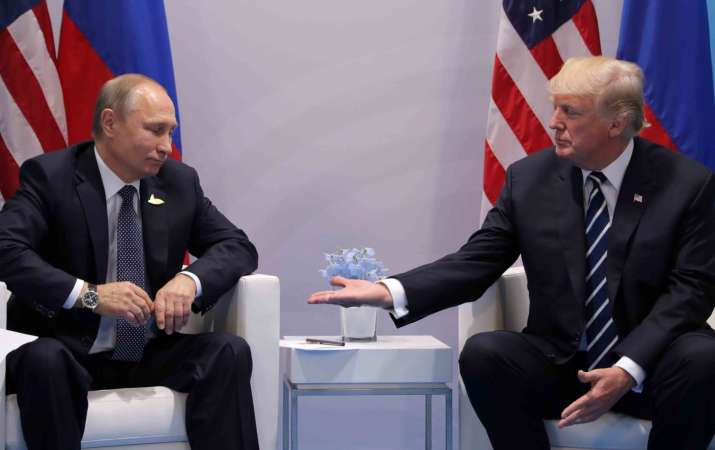 Russia's foreign ministry termed the new US sanctions, signed into law by President Donald Trump, as a 'dangerous' and 'short-sighted' policy. 
In a statement, the ministry said the sanctions against Russia had put global stability at risk, a matter Moscow said it and the United States bear particular responsibility for. 
"We have already shown that we are not going to leave hostile acts unanswered... and we obviously reserve the right to take retaliatory measures," it said. 
The ministry also urged the US to "get rid of its illusions and understand that no threat or pressure will force Russia to change its policy or sacrifice its national interests".
Russia remains "open to cooperation with the United States in areas considered useful to Moscow and to international security, particularly regarding regional conflicts," it said, in an apparent reference to Syria. 
But such collaboration will only be fruitful if "politicians in Washington stop looking at the world through their exclusively American prism," the statement added.
Earlier, Donald Trump grudgingly signed what he called a "seriously flawed" package of sanctions against Russia on Wednesday, bowing for the moment to resistance from both parties to his push for warmer ties with Moscow.
Trump signed the most significant piece of legislation of his presidency with no public event. And he coupled it with a written statement, resentful in tone, that accused Congress of overstepping its constitutional bounds, impeding his ability to negotiate with foreign countries and lacking any ability to strike deals. 
While he signed the bill, the President made clear in a statement on Wednesday that he is signing the bill "for the sake of national unity" even though he isn't satisfied with some of its provisions.
 
"I favour tough measures to punish and deter bad behavior by the rogue regimes in Tehran and Pyongyang. I also support making clear that America will not tolerate interference in our democratic process, and that we will side with our allies and friends against Russian subversion and destabilization," he said. 
He added, "Still, the bill remains seriously flawed -- particularly because it encroaches on the executive branch's authority to negotiate."
The bill maintains and expands sanctions against the Russian government. Most importantly, it will require congressional approval before the president can ease or lift sanctions on Russia. 
The measure also targets sanctions on Russian activities that undermine US cybersecurity, sanctions on Russian crude oil projects and on certain transactions with foreign sanctions evaders and human rights abusers, among other things.
A day after the Senate passed the new set of sanctions, Russia's Foreign Ministry last Friday announced countermeasures in which it set a September 1 deadline for Washington to reduce the number of diplomatic staff in the country and ordered some US-run facilities in Russia to close.