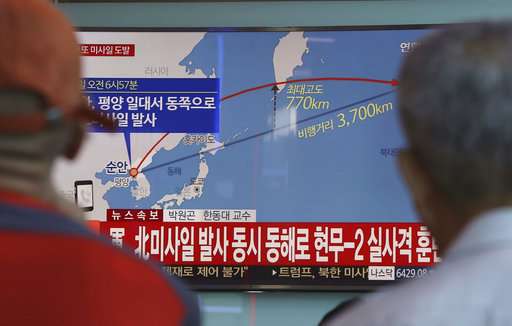 North Korea today fired an unidentified missile eastwards over Japan, Tokyo said its latest provocation amid high tensions over its banned weapons programmes.
Terming it as a "dangerous provocative action that threatens world peace", Japanese Prime Minister Shinzo Abe said that Tokyo would never tolerate such provocations. "If North Korea continues to walk down this path, it has no bright future," Abe told news agency AFP. "We must make North Korea understand this."  
The launch came after the United Nations Security Council (UNSC) imposed an eighth set of sanctions on the country over its ballistic missile and atomic weapons programmes. This is the second time in less than three weeks that North Korea had sent a missile over Japan.
South Korea's Joint Chiefs of Staff said the latest missile traveled about 3,700 kilometers (2,300 miles) and reached a maximum height of 770 kilometers (478 miles). Guam, which is the home of important U.S. military assets, is 3,400 kilometers (2,112 miles) away from North Korea.
South Korean President Moon Jae-in, a liberal who initially pushed for talks with North Korea, said that Pyongyang's tests currently made dialogue "impossible."
North Korea initially flight-tested the Hwasong-12 and the ICBM model Hwasong-14 at highly lofted angles to reduce their range and avoid neighbouring countries.
Sirens sound as North Korea again sends a missile over Japan
The launch immediately triggered emergency alerts in Japan. Community loudspeakers instructed people to get inside any building and go to the basement. TV stations relayed the warnings and residents in several prefectures got the emergency message on their mobile phones. Trains and subways on Hokkaido briefly stopped for safety checks.