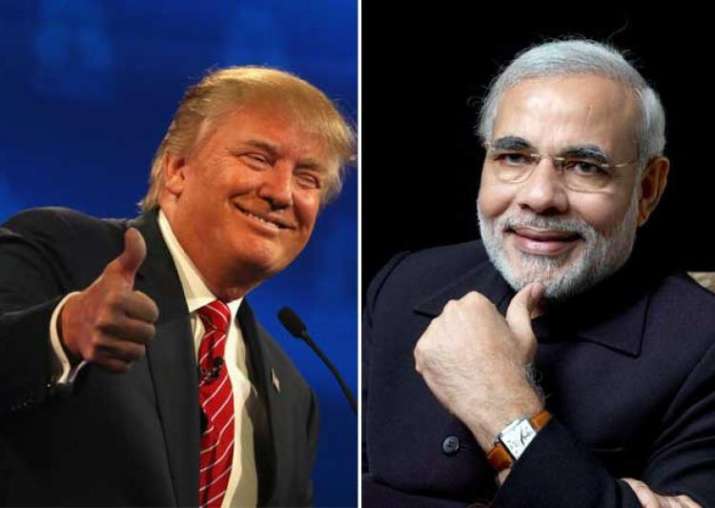 Prime Minister Narendra Modi's visit to the United States, his first since US Donald Trump's inauguration as President, has left Pakistan jittery. The reason behind Pakistan's fears is the buzz around a possible downgrading of Pakistan's status as a major non-NATO ally or MNNA. Just ahead of PM Narendra Modi's visit to the US, two senior American Congressmen have introduced a bipartisan  bill that seeks to significantly pare down ties with the Islamic country. 
The bill, introduced on Friday by Republican Ted Poe and Democrat Rick Nolan, calls for making "a clean break" from the country that they said had "harboured terrorists" and had "little in the way of being accountable for the money given for fighting, eradicating these groups".  
The media and experts in Pakistan are interpreting it as a pro-India move by the Trump administration. The two leaders will be meeting on June 25 and 26 in Washington DC.  Among the many issues that are likely to be discussed, terrorism and relations in South Asia are tipped to feature prominently. Also on the agenda will be Afghanistan where both India and US have major stakes. 
While India is Afghanistan's closest ally and is helping the war-torn country redevelop, for the US, it is a question of high stakes as far as its war on terror is concerned. It's been 16 years since US entered Afghanistan and the country is still at war. The Taliban, which was ousted from power in 2001, has regained control over 40 per cent of the area over a period of time.  
The Afghanistan government, on its part, has time and again blamed Pakistan-based terror outfits for instigating terror on its soil.
The recent attack in Kabul's diplomatic area which left 90 dead and more than 400 injured was the latest big attack that Kabul has held Pakistan responsible for. Afghanistan's National Directorate of Security (NDS) has blamed Pakistan-based terror outfit Haqqani Network for the Kabul attack. The attack, it said, was carried out with direct help from Pakistan's Inter Services Intelligence (ISI).
That India and Afghanistan are victims of cross-border terrorism backed by Pakistan is no secret. Neither is the fact that India is bound to raise this matter before the US in seeking strong action against Pakistan which supports the Taliban, the Haqqani network and other outfits. It is in this backdrop that the US bill to pare ties with Pakistan assumes significance. And if you were to go by the views of the Congressmen, Pakistan's worries shouldn't come as any surprise. 
"Pakistan must be held accountable for the American blood on its hands," Republican Ted Poe said, in some of the sharpest comments in the Capitol yet against Pakistan. "From harbouring Osama bin Laden to backing the Taliban, Pakistan has stubbornly refused to go after, in any meaningful way, terrorists that actively seek to harm opposing ideologies. We must make a clean break with Pakistan, but at the very least, we should stop providing them the eligibility to obtain our own sophisticated weaponry," he said.
Media reports have it that the Trump administration is exploring hardening its approach towards Pakistan and crack down on Pakistan-based militants launching attacks in Afghanistan. The Trump administration, reports said, may even opt for drone strikes inside Pakistan and withholding some aid to it.
The recent bill introduced just ahead of PM Narendra Modi's visit to the US, thus, creates more trouble for Pakistan. Pakistan was granted MNNA status in 2004 by then President George W Bush to get Pakistan to help the US fight al-Qaeda and the Taliban. What makes the MNNA status crucial is that it makes the country eligible for priority delivery of defence material, an expedited arms sale process, and a US loan guarantee program, which backs up loans issued by private banks to finance arms exports. It can also stockpile US military hardware, participate in defence research and development programs, and be sold more sophisticated weaponry.
  
There is another facet to Pakistan's worries. The Trump administration has already decided to send 4000 more troops to Afghanistan. As China and Russia increase their influence in the region, it appears unlikely that the US would leave from here anytime soon. Its bases in Afghanistan also allow keeping an eye on Iran. Moreover, the US is also bound to keep a close eye on the ambitious China Pakistan Economic Corridor which will allow China access to the Gulf region. If you were to view things from the US perspective, one would assume that it would like to work with India in Afghanistan keeping in mind its interests. 
This is what has Pakistan even more worried. Pakistan knows its failure in clamping down on terror has not been hidden. It also knows that India has managed to create pressure over this failure by Pakistan and that its duplicity may not work too long. "Time and time again, Pakistan has taken advantage of America's goodwill and demonstrated that they are no friend and ally of the United States... The fact is, the billions of dollars we have sent to Pakistan over the last 15 years has done nothing to effectively fight terrorism and make us safer. It is time to wake up to the fact that Pakistan has ties to the same terrorist organisations which they claim to be fighting," said Rick Nolan.
India, on the other hand, has an opportunity at hand. When PM Narendra Modi meets Trump, it can use the opportunity to persuade US to put pressure on Pakistan to stop cross-border terrorism in Jammu and Kashmir. Pakistan knows it well and understands it is being increasingly cornered. No wonder, the country is rattled.