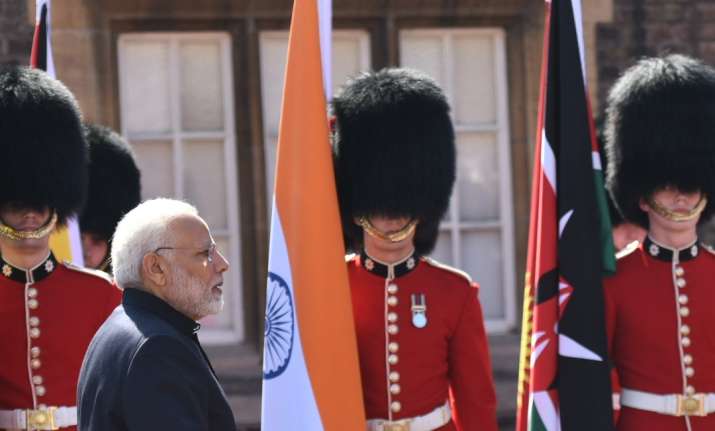 Prime Minister Narendra Modi today had a series of bilateral meetings on the sidelines of the multilateral Commonwealth Heads of Government Meeting (CHOGM) in London even as Khalistan supporting groups staged protests. 
PM Modi met with Seychelles President Danny Faure and his Mauritius counterpart Pravind Kumar Jugnauth.
"Friend in an extended neighbourhood! PM @narendramodi and President of Seychelles, Danny Faure met on the sidelines of #CHOGM18 and discussed cooperation in areas of trade and investment and other bilateral issues," Ministry of External Affairs spokesperson Raveesh Kumar tweeted.
 
The bilateral talks between Faure and Modi assumes significance after Seychelles ordered an inquiry into the leak of a highly classified agreement signed with India to develop infrastructure on Assumption Island, which lies southwest of the mainland of Mahe.
The opposition in Seychelles has decided not to ratify the pact because of Assumption's relative proximity to Aldabra atoll, a UNESCO World Heritage Site that is home to the world's largest population of giant tortoises.
Cementing close friendship with Mauritius, Prime Minister Modi met his Mauritius counterpart Jugnauth and talked about cooperation in trade and investment, maritime cooperation and people-to-people ties, Kumar said.
The "pull-aside meetings" with world leaders included an interaction with Ugandan President Yoweri Museveni, Gambian President Adama Barrow, Fiji Prime Minister Frank Bainimarama, St. Lucia Prime Minister Allen Chastanet and Prime Minister of Solomon Islands, Rick Houenipwela.
Modi also interacted with President of Kiribati, Taneti Maamau, and Prime Minister of Antigua & Barbuda, Gaston Browne.
Sheikh Hasina is set for an interaction with Modi, their first meeting since the Bangladeshi Prime Minister's visit to New Delhi last year.
Pictures from @Commonwealth18, where PM @narendramodi and other world leaders are taking part. pic.twitter.com/hdSnhewo9M

— PMO India (@PMOIndia) April 19, 2018
Some of the other world leaders expected to have one-on-one deliberations with Modi include Australian Prime Minister Malcolm Turnbull, South African President Cyril Ramaphosa, Cyprus President Nicos Anastasiades and Jamaican Prime Minister Andrew Michael Holness.
Additionally, Modi is likely to interact with Dr Keith C Rowley, Prime Minister of Trinidad & Tobago.
"The summit offers ample opportunity for leaders to interact in meeting rooms for bilateral discussions on matters of mutual interest as well as cooperation over Commonwealth issues," a senior official said.
Officials had earlier indicated that no meeting or interaction has been requested or scheduled with Pakistani Prime Minister Shahid Khaqan Abbasi.
The bilateral talks took place as the formal heads of government meeting got underway in London today, following a formal launch by Queen Elizabeth II at Buckingham Palace. 
Prime Minister Modi was scheduled to address the second plenary meeting of the heads of government during the closed-door executive session of CHOGM.
At the launch of the CHOGM executive session at Lancaster House open to the media, British Prime Minister Theresa May said: "The great strength of the Commonwealth is that all our members have equal status, an equal voice, and an equal right to make that voice heard. So, as we tackle these challenges, I want to hear from everyone, and everyone will have chance to speak.
"We face many challenges in the world today. But the Commonwealth is a unique organisation and, at this summit, we have an opportunity to deliver lasting change that benefits all of our 2.4 billion people."
Later today, the 91-year-old monarch will host a dinner for all 53 heads of government at the palace.
"I had not been able to visit the last summit and this time, it was an honour that Prince Charles came personally to India last year to invite me for it. The Queen herself wrote a personal letter to me, a matter of great pride for India," Modi had said during his 'Bharat Ki Baat, Sabke Saath' diaspora event in London last evening.
An Indian Prime Minister is attending CHOGM, held every two years, after a hiatus of nearly a decade, having skipped CHOGMs in Perth, Colombo and Malta since 2009. The Indian government has said that this symbolises the country's wider efforts to step up its role across global forums.
The executive session of the summit today will be followed by a retreat at Windsor Castle tomorrow, when the leaders get together in an informal setting without any pre-set agenda or being accompanied by their close aides.
The summit concludes tomorrow when leaders will issue their communique and a leaders' statement after their retreat.
CHOGM takes place every two years in different Commonwealth countries, with the next host country also to be announced at the end of this summit.
 
Following the retreat, Modi will head back to India after a brief stopover in Berlin, Germany for his meeting with Chancellor Angela Merkel.
Demonstrations greet Modi in UK, turn aggressive as Indian tricolour ripped 
Some groups protesting against atrocities in India during PM Modi's visit turned violent after a tricolour was torn down from one of the official flagpoles set up for all 53 Commonwealth countries.
Modi was greeted by protesters as he met his British counterpart Theresa May. Some of the protesters at Parliament Square yesterday turned aggressive after the Indian tricolour was torn down from the flagpole.
A Metropolitan Police statement said police are investigating the case.
"Police are investigating after an Indian flag in Parliament Square was pulled down at 1500 (UK time) on Wednesday, 18 April. The flag has been replaced. There have been no arrests. Enquiries continue," the statement said.
A senior broadcast journalist from one of the leading Indian media channels covering the protests was caught in a violent scrum with some of the more aggressive pro-Khalistani protesters and Scotland Yard officers on duty had to step in to the rescue. The group is planning to file a complaint with the Metropolitan Police on the incident.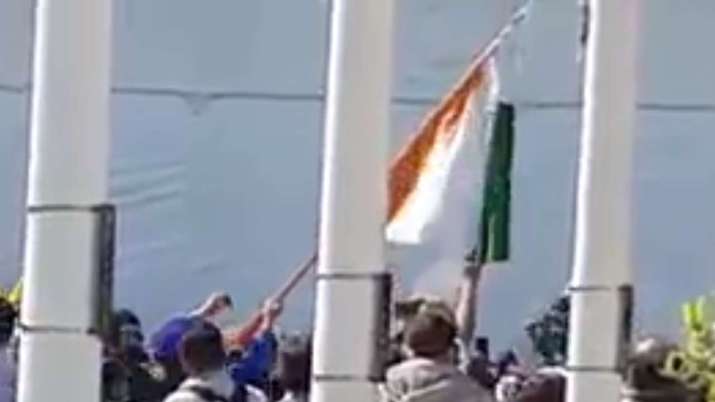 "We have expressed our concerns with the British authorities and they have apologised for the incident. We have been warning against some of these elements out to make trouble and they have assured us of action. The Indian flag has now been replaced," a senior Indian official associated with the PM's visit said.
The pro-Khalistani demonstrators from Sikh Federation UK and demonstrators from the so-called "Minorities Against Modi" group, led by Pakistani-origin peer Lord Ahmed, were among nearly 500 protesters who descended upon Parliament Square. These included groups led by some Kashmiri separatist groups and at one point, some of them had surrounded the Mahatma Gandhi statue at the square with their banners and flags.
Officials involved with the prime ministerial visit to the UK had said that protests and demonstrations are "part and parcel of any democratic society" as long as they remain peaceful. There are now concerns that some of the more aggressive elements hijacked the tone of the protests.
Earlier on Wednesday, flash mob of sari-clad women with dhols set the tone for the pro-Modi crowds opposite 10 Downing Street as the Indian PM arrived for his breakfast meeting with British Prime Minister Theresa May. They were joined by the Friends of India Society International (FISI) group, which spearheaded a crowd of Indian diaspora from across the UK waving banners such as 'Chak De India' and 'Jai Hind' outside Downing Street and nearby Parliament Square.
"We want to welcome the Indian PM to the UK and show him the diaspora support he enjoys," said one of the members of the gathering.
On the other side, the anti-Modi protesters from Caste Watch UK and South Asia Solidarity group waved banners such as Modi, you have blood on your hands and Modi Not Welcome.
"Hindu nationalism must be curtailed to avert India sliding towards wholesale dictatorship threatening democratic fabric, rule of law and the unity of India," a Caste Watch UK spokesperson said.
They were joined by other protestors carrying images the eight-year-old rape victim from Kathua in Jammu and Kashmir, and Gauri Lankesh, the Indian journalist who was shot at her doorstep last year.
The group also included representatives of several Indian women's groups in the UK, wearing white as part of their silent protest against 'atrocities that are taking place in India'.
"I am Hindustan, I am ashamed," read their placards alongside banners such as Beti Bachao and Politics minus rape. 
(With inputs from PTI)