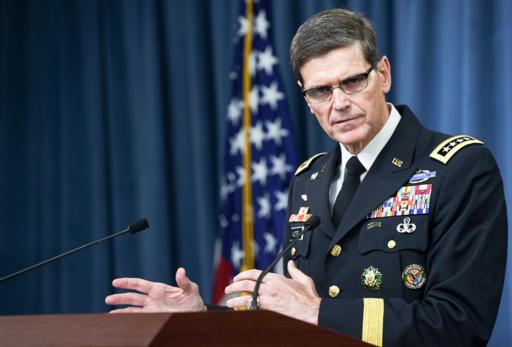 General Joseph L Votel, who oversees US operations in Afghanistan and Pakistan, has warned that India's policy to "diplomatically isolate" Pakistan may lead to nuclear exchange as it hinders of the improvement of ties between the two countries.
Speaking during a hearing at the US Senate's Armed Services Committee, General Joseph L Votel said that attacks in India from Pakistan-based terrorists and the reaction may lead to miscalculation by both the countries.
"This," he told senators, "is especially troubling as a significant conventional conflict between Pakistan and India could escalate into a nuclear exchange, given that both are nuclear powers."
The general spoke of India's concerns about lack of action against India-focused militants based in Pakistan and the surgical strike undertaken by the Indian military against terrorist camps across the border in Pakistan in 2016.
The general's command overseas US operations in Afghanistan and Pakistan and he echoed the country's mounting concern with Pakistan, who he called a critical partner in counterterrorism, when he said that "of particular concern to us is the Haqqani Network (HQN) which poses the greatest threat to coalition forces operating in Afghanistan".
To date, he stressed, "the Pakistan military and security services have not taken lasting actions against HQN" despite repeated calls from to the "Pakistanis to take the necessary actions to deny terrorists safe haven and improve security in the Federally Administered Tribal Areas (FATA) along the Afghanistan-Pakistan border region".
Saying "there are challenges with respect to the US-Pakistani relationship, we have endeavoured to maintain a substantial level of engagement with our Pakistani military counterparts".
(With PTI inputs)