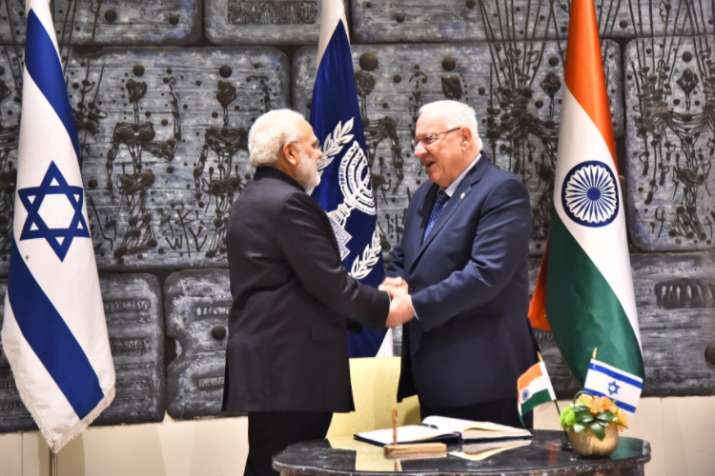 Prime Minister Narendra Modi today met Israel President Reuven Rivlin and thanked him for the warm welcome he received in his country since his arrival in Tel Aviv yesterday.
Held talks with @PresidentRuvi. We discussed a wide range of issues pertaining to #IndiaIsraelFriendship & other global issues. pic.twitter.com/4GEdikh9rG

— Narendra Modi (@narendramodi) July 5, 2017
Greeted with a warm hug by the Israeli President, PM Modi said, "I for I, India for Israel and Israel for India". 
He tweeted and said, "The President of Israel welcomed me so warmly, he broke protocol. This is a mark of respect for the people of India". 
Modi, who arrived in Tel Aviv yesterday for a three-day visit, met Rivlin at his residence here and thanked him for the "warm hospitality and friendship". 
"It is a privilege to meet President Rivlin again today. I fondly recall his visit to India last November when he charmed us with his affable manner and desire to do more with India," Modi wrote in the guest book at the President's residence. 
"President Rivlin is admired in India for his unstinting belief and common good of mankind, I thank him for his friendship and his warm hospitality," wrote Modi, who is the first India prime minister to visit Israel.
On Tuesday, Netanyahu announced a $40 million (Rs 260 crore) Innovation Fund for greater cooperation in technology. He also referred to PM Modi's signature "Make in India" scheme and said it fitted well with Israel's "Make with India" policy.
Among the several pacts that will be signed between India and Israel, the centrepiece is the Barak-8 air defence system, built jointly by the two nations in a boost for PM Modi's campaign to develop a domestic defence industry and reduce arms imports. 
PM Modi will also discuss a plan for Israeli help in boosting India's food security. The plan is to expand 26 agriculture expertise centres that Israel has set up in 15 Indian states to help increase output of everything from vegetables to mangoes and pomegranates.