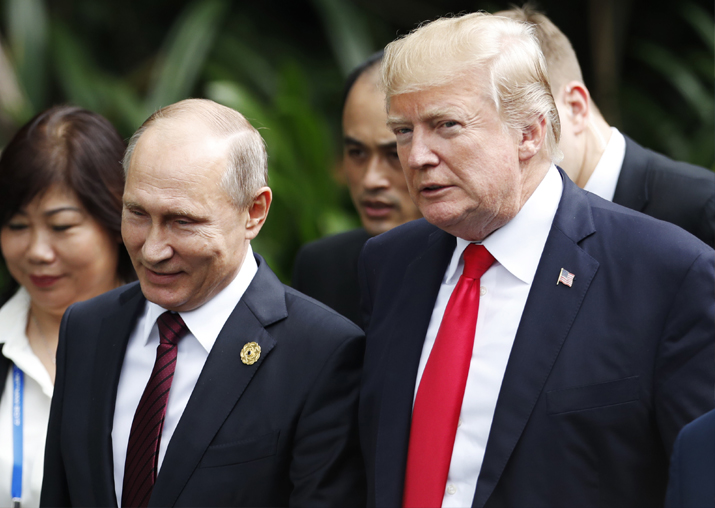 President Donald Trump said that his Russia counterpart Vladimir Putin once again denied meddling in the 2016 election during their conversations on Saturday at a summit in Vietnam.
Trump told reporters aboard Air Force One that every time Putin sees him he says: "I didn't do that."
"And I believe, I really believe that when he tells me that he means it," Trump said.
Multiple US intelligence agencies have concluded that Moscow meddled in the 2016 election to try to help Trump win. Multiple investigations are also under way to determine whether Trump campaign officials colluded with them.
Trump dismissed the heads of those agencies as "political hacks." He said there's plenty of reason to be suspicious of their findings.
Trump also choose to blame Democrats for creating an "artificial barrier" to US-Russian relations by accusing Russia of meddling in the 2016 election.
He said that "artificial barrier" gets in the way of putting global pressure on North Korea to abandon its nuclear weapons program.
Without that obstacle, Trump said, "We could really be helped a lot, tremendously with Russia having to do with North Korea."
"If we can save many, many, many lives by making a deal with Russia having to do with Syria, and then ultimately getting Syria solved and getting Ukraine solved and doing other things, having a good relationship with Russia's a great, great thing. And this artificial Democratic hit job gets in the way," he said, adding that, "people will die because of it."