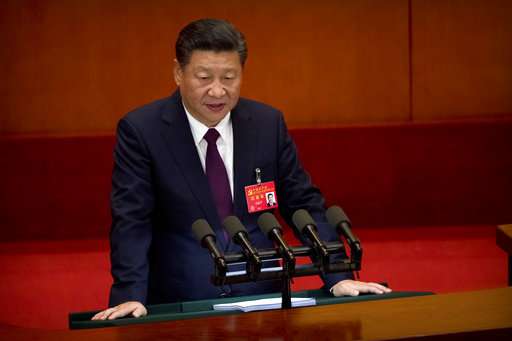 President Xi Jinping today assured jittery neighbours that China is ready to resolve its disputes through dialogue but not at the expense of Beijing's strategic interests, as he opened a key meeting of the ruling Communist party elite that will shore up his grip on power with a second term and even an unprecedented third innings at the helm.
"China will never pursue development at the expense of others interests, nor will China ever give up its legitimate rights and interests. No one should expect China to swallow anything that undermines its interests," Xi  during his 3.5-hour-long speech amid thumping applause from over 2,300 delegates who attended the meeting telecast live.
Xi, the General Secretary of the CPC, also vowed make the People's Liberation Army a world class military by the mid-21st century during his over a three-and-a half hour speech at the once-in-a-five-year Congress which is set to confirm his second term and elect new leaders to work with him.
By 2020, mechanization will be basically achieved, with IT application coming a long way and strategic capabilities seeing a big improvement, Xi said at the opening session of the 19th CPC National Congress.
The modernization of the national defence and armed forces should be basically completed by 2035, he added.
The CPC will build a powerful and modernized Army, Navy, Air Force, rocket force and strategic support force, develop strong and efficient joint operations commanding institutions for theatre commands and create a modern combat system with distinctive Chinese characteristics, he said.
"A military is built to fight," he said, stressing combat capability as the criterion to meet, Xinhua news agency reported.
Technology was the core combat capability, he said, adding that people's military would be made more innovative.
The CPC will speed up development of intelligent military and improve combat capabilities for joint operations based on network information system and the ability to fight under multi-dimensional conditions.
Founded in 1927, the People's Liberation Army now commands about two million service personnel. 
Today, a new military structure has been established with the Central Military Commission exercising overall leadership, the theatre commands responsible for military operations and the services focusing on developing capabilities.
The Chinese military has carried out major missions related to the protection of maritime rights, countering terrorism, maintaining stability, disaster rescue and relief, international peacekeeping, escort services in the Gulf of Aden and humanitarian assistance.
The 64-year-old spoke mostly of rebuilding of the ruling Communist Party of China (CPC) keeping its socialist structure intact.
At the opening session of CPC's 19th Congress at the Great Hall of the People, the party put up a united show with most of the top retired leaders including former presidents Jiang Zemin and Hu Jintao besides former Premiers Wen Jiabao and several other erstwhile leaders sharing the dais with Xi on the front row.  The week-long meeting will also amend the party's Constitution.