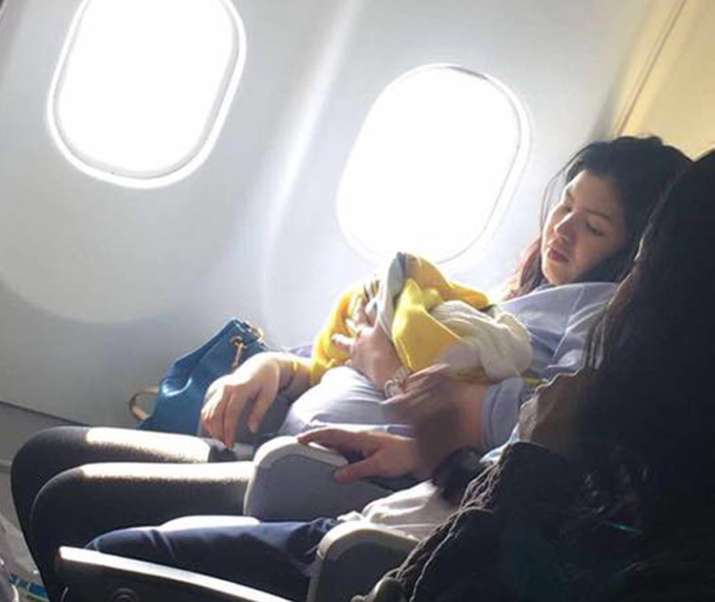 A woman on Sunday gave birth to a baby girl mid-flight while travelling from Dubai to Philippines. To celebrate the birth of baby girl 'Heaven', the airline Cebu Pacific has provided her with a lifetime of free tickets. 
"To celebrate this momentous occasion in the life of one of our passengers, CEB awards Baby Haven one million GetGo points, which she can use to fly with us for free," Lance Gokongwei, CEB President and CEO, said.
Haven was born approximately four hours after the departure of flight the Dubai International Airport on August 14, 2016. Cabin crew, along with two registered nurses who were also passengers on the flight, assisted with the delivery.
The flight was diverted to Hyderabad to ensure the mother and baby received medical assistance. 
The mother was due in October but delivered 32 weeks prematurely. 
"We are happy that both mother and daughter are doing well, and would like to commend our flight and cabin crew for handling the situation with utmost professionalism and efficiency. We also express our sincerest gratitude to the two volunteer nurses who helped ensure the baby's safe delivery," Gokongwei said in a press release. 
A co-passenger on the flight narrated the entire incident on her Facebook account which has since gone viral. 
"The lady started having contractions mid-flight, about five hours while going from Dubai to the Philippines. She was set to give birth in October, so this came as a surprise, even to her mother," Missy Berberabe Umandal, a passenger on flight 5J015  wrote in her Facebook post.
"For once in my life, I saw flight attendants, who are meant to always maintain their poise and composure, panic ever so slightly. Flight attendants started calling for medical assistance, and luckily, there were two nurses among the passengers," her post further read.
"We only heard one semi-loud screech, and a few seconds later, there were tinier, cute screeches, and it was when we knew the baby was born," Umandal wrote. 
Explaing what transpired after her birth, Umandal said, "Moments later, the woman got up to go back to her seat, baby in arms (mighty strong, I might say). There were 2 other babies with us in the front row, and one of the passengers had a suitcase full of infant clothes and necessities, which could not have come at a better time." 
Flight attendants and nurses cleaned the baby with mineral water and dressed her in baby clothes donated by fellow passengers flying with infants.
The pilot conducted an emergency landing in Hyderabad so the mother and newborn could receive medical attention before continuing on to Manila.
"Flight was delayed once again (what was supposed to be a 9-hour flight became roughly 18 hours), but no complaints.. everyone in that plane was blessed,"  she added.