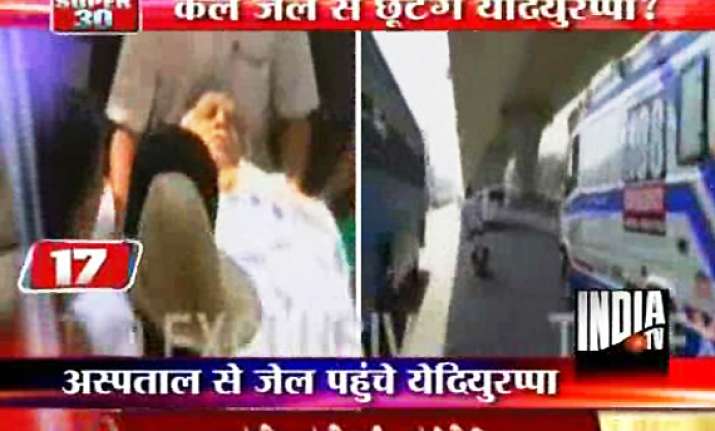 Bangalore, Oct 19: Former Karnataka Chief Minster B S Yeddyurappa, arrested in an alleged land scam case, today returned to jail after he was discharged from a state run hospital.

68-year-old Yeddyurappa, shifted from the Jayadeva Institute of Cardiology to Victoria hospital yesterday, insisted upon the doctors that he be discharged, apparently upset over adverse media reports about his hospital hopping to avoid prison stay.

Dr Siddappa and Dr Nataraj, who were treating the former Chief Minister at the Victoria hospital said, "Yeddyurappa's sodium level in the blood is low. He is suffering from breathing problems, uncontrolled blood pressure and diabetes.

He is also suffering from backache. But Yeddyurappa insisted that he should be discharged and we have done it." Siddappa said Yeddyurappa should continue medication to bring the sodium level in his blood to normal.

Sources close to Yeddyurappa said he had confided to Minister for Housing V Somanna that he was hurt by the way media portrayed his shifting hospitals and wanted to remain like a common prisoner and avail treatment in the jail hospital.

Soon after Yeddyurappa reached the Parappana Agrahara jail, he was subjected to medical tests.

Yeddyurappa preferred to stay in the cell and has not been admitted to the hospital (in the jail), DIG prisons, Lakshminarayana told PTI.

Another source said Yeddyurappa returned to jail on legal advice as his bail application is coming up for hearing before the High Court tomorrow.

Yeddyurappa had filed a bail application in the High Court on Monday. Facing imminent arrest, he had surrendered before the Lokayukta Court on Saturday last after it rejected his bail plea.

The Lokayukta court had on October 15 remanded Yeddyurappa to judicial custody till October 22 in cases relating to alleged irregularities in denotification of government lands.

Hours after he was remanded to judicial custody by a local court on October 15, Yeddyurappa had complained of uneasiness and chest pain in the wee hours and was rushed to Jayadeva hospital.

In another trouble to Yeddyurappa, a petition was moved before the High Court today praying for cancellation of bail granted to his sons and son-in-law by the Lokayukta Special Court.

The petitioner Sirajin Basha has submitted that the grounds on which Yeddyurappa was denied bail by Lokayukta court applied to the former chief minister's two sons - B Y Raghavendra, Lok Sabha member, B Y Vijendra, and son-in-law R N Sohan Kumar - and prayed for cancellation of their bail.

Basha has also prayed before the High Court seeking cancellation of bail granted to BJP MLA, Hemachandra Sagar, an accused along with Yeddyurappa, submitting that he was guilty of the offences as former minister Krishnaiah Setty who was remanded to judicial custody by the Lokayukta court.

The petition is coming up for hearing tomorrow along with the bail pleas filed by Yeddyurappa and Setty.

Setty who has also been remanded to judicial custody till October 22 moved his bail application before the high court today and it is listed for hearing tomorrow.

Meanwhile, Excise Minister M P Renukacharya, a hardcore supporter of Yeddyurappa, expressed displeasure over media reports on the former Chief Minister's hospitalisation issue.