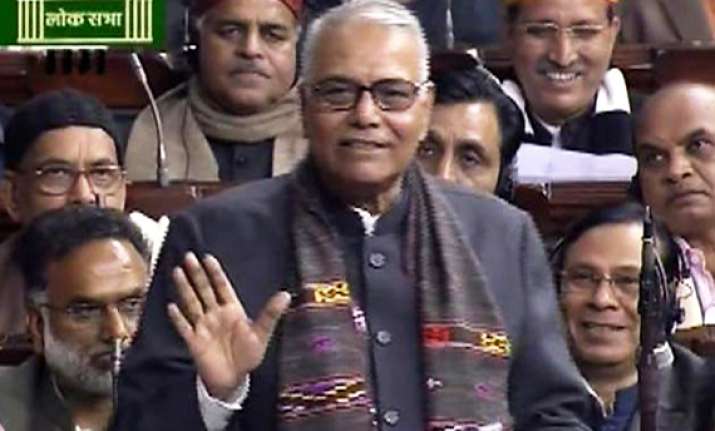 New Delhi, Dec 27: BJP leader Yashwant Sinha today took a dig at Prime Minister Manmohan Singh's Lokpal Bill debate speech in Lok Sabha, calling it a "farewell speech".

Sinha's observation during the debate on the Lokpal Bill in the Lower House was countered a few hours later by Finance Minister Pranab Mukherjee who sarcastically told opposition BJP not to be impatient for power.

Sinha during the course of his speech referred to Prime Minister's intervention and said he had listed various achievements of his government as if it was his "farewell speech.".

Replying to the debate, Mukherjee, Leader of the House, strongly defended the Prime Minister and took a jibe at Sinha, a former Finance Minister.

"I am sorry I did not expect it from Mr Yashwant Sinha that he will say it is a farewell speech.

Why are you in a hurry to come the Treasury Benches Mr Sinha? Why don't you wait for another two-and-a-half years more or two years and four months to occupy these (ruling) benches, " Mukherjee said. The present term of the Lok Sabha ends in mid-2014.

The exchange of barbs spilled over even after the conclusion of Pranab's spirited reply.

Sinha got up and sought to justify why he had described the Prime Minister's speech as a farewell speech.

He claimed that the buzz in the Central Hall of Parliament was that the Prime Minister was on his way out and that Pranab will be stepping into his shoes.

Pranab did not allow the matter to rest there and asked  Sinha "Of all persons me".