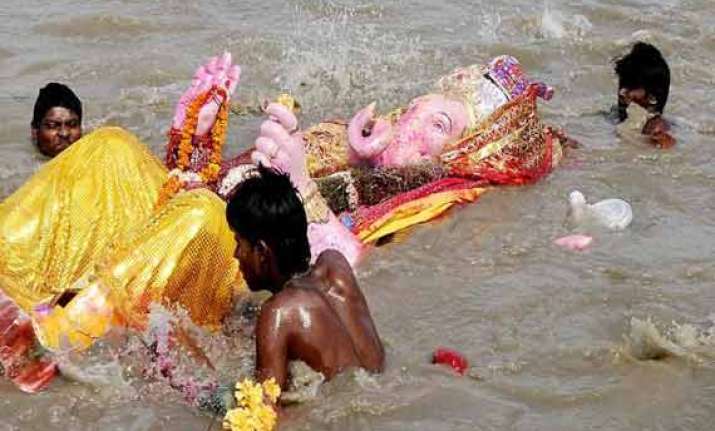 New Delhi: With the Narendra Modi government moving toward cleaning India's rivers, including the sacred Ganga and its tributary, the Yamuna, authorities are worried that coming religious festivals might just aggravate the river's pollution.
With the 10-day Ganesh Chaturthi festival starting next week, Delhi Lt. Governor Najeeb Jung appealed to the residents of the city to keep the water bodies clean and use only the designated ghats for idol immersion to prevent accidents.
Every year, hundreds of idols of Lord Ganesha, a majority of them made with toxic plaster and paint, are immersed in the depleted waters of the Yamuna after the festival.
In addition to littering the ghats with garlands and decoration items left behind by the devotees, incidents of people losing their lives by drowning are quite common. Eight people drowned during idol immersion in the Yamuna last year.
Jung appealed to Delhiites to "please carry out immersions at designated ghats" during daytime to prevent mishaps.
He also urged people to use clay idols and colours that don't harm the environment.
"I urge you to use eco-friendly materials and non-toxic colours for making the idols, place flowers and garlands at designated sites on the ghats and avoid littering, avoid using any intoxicants," Jung said in a publicised message.
The designated ghats have proper signages that indicate the water level along with proper enclosures for immersion of the idols.
"Let us celebrate Ganesh Chaturthi with great enthusiasm and in its true spirit and at the same time take a pledge to keep the city, especially the Yamuna clean," Jung appealed.
However, the authorities won't be breathing easy once the Ganesh Chaturthi festivities conclude as, within weeks, the city will start gearing up for Durga Puja, which also involves the immersion of idols of goddess Durga in water bodies around the country.